by Bailey Pennick
"First I might have to give a disclaimer that I might cry — and that we might all cry [right now] — so we just want that out in the world for everyone who's watching this," Isabel Castro says, laughing through a slight tremble in her voice. The director of Mjia is flanked on either side with the strong women who helped bring this documentary to life and they all grab onto her to consolidate their strength. 
From the looks of the live chat during their post-premiere Q&A, the entire online premiere was following Castro's premonition of tears:
Chithra: Congratulations. I am all tears.
Cynthia: Gracias. I cried, I felt represented in ways I don't often see in film, and I honor you're [sic] journeys. Bellísimas
And while tears aren't exactly rare during a Sundance Film Festival screening, the emotions welling in the cast, crew, and audience tonight are ones of hope and recognition for a more complete view of the immigrant experience in the United States. "What has frustrated me, even throughout my own work, is that immigration stories exclusively center trauma and pain," Castro says, doubling down on why she wanted to follow up-and-coming music manager Doris Muñoz through the last two years. "I wanted to tell the story that covered the whole spectrum of emotions that come with immigration."
Through the eyes of Muñoz — who is hustling to make things happen for her burgeoning career after parting ways with her rising indie-pop star client — Castro pulls back the curtain on all aspects of being the daughter of Mexican immigrants. As the first American-born member of her undocumented family awaiting green cards, Muñoz bears a lot of weight on her 26-year-old shoulders, especially when she travels to and from Mexico during the pandemic to see her brother, Jose, who was deported six years ago. She's also the guide for her parents when they're finally reunited with their son and their home country, one they haven't seen in decades.
Muñoz is the connection between both countries and both worlds for her supportive family. She extends the reach of her warmth and grace when she discovers Jacks Haupt, a young artist in Dallas, Texas, whose first-born experience is similar to her own. Muñoz takes her on as a new client and reinvigorates her passion for the music industry.
Early on in the film, Muñoz shouts "Thanks for letting me be your mom, kids!" to Cuco's band and crew, and you can tell that she means it. She's a radiating and encouraging presence in the lives of everyone she meets, and her resilience and joy is all for her loved ones and her community. "When I met Doris [Muñoz], I knew she was the best person to do [this film] with," Castro says; the rest of the cast and crew nodding emphatically.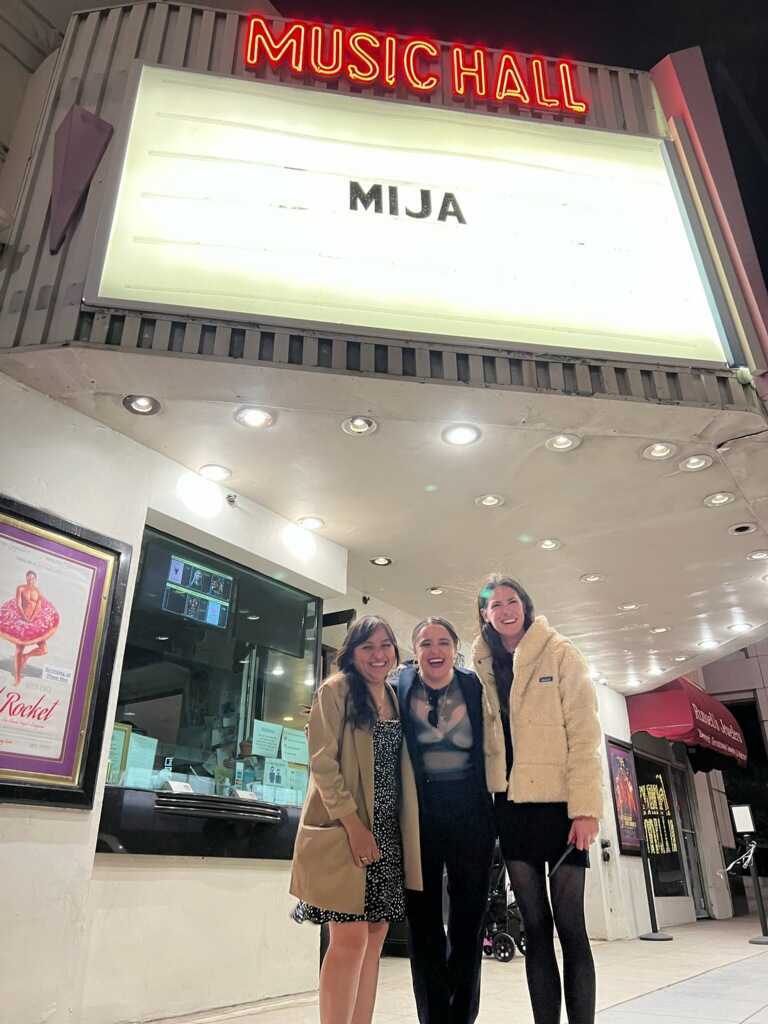 Muñoz, on the other hand, highlights her family as the best people to tell this story: "When I asked my family if they were willing to open up their lives [to be in this film], their yes [was] my yes." Through the hugs, care packages, prayers, home movies, and, yes, tears, of Muñoz's family, Mija provides an authentic and inspiring look at a way of life that is usually so skewed in the media. 
"The overarching goal of this film is to have as many people see this and feel this and be heard," says Castro. Muñoz, herself, goes one step further: "Baby Doris needed this film to let her know that her family would be reunited that day. You don't know when or if it's actually going to happen…I daydreamed of reunions growing up, just to give myself that sense of hope. So I hope that this film gives that sense of help to others too."