By Vanessa Zimmer
For Reid Davenport, of I Didn't See You There, mostly it's about invisibility.
His curly-haired frame in a wheelchair is reflected in the glass of the storefronts, the wheels clacking over the cracks in the sidewalk. The buildings are off horizon, the trains askew, the shadows of pedestrians cast at odd angles, as he shoots film footage from his chair.
Davenport has said his biggest obstacle isn't the cerebral palsy that affects his mobility and motor skills, but how people respond to his cerebral palsy. So he decided to make a film about how he views the world: "I could show you how I see without having to be seen."
Life added another layer to his documentary when a circus tent went up across the street from his Oakland, California, apartment. "The tent made me think about the legacy of the Freak Show, about being looked at but not seen," he says in the voiceover. He couldn't stop thinking about that "goddamned tent" and the awful history of dwarf children and conjoined twins on display.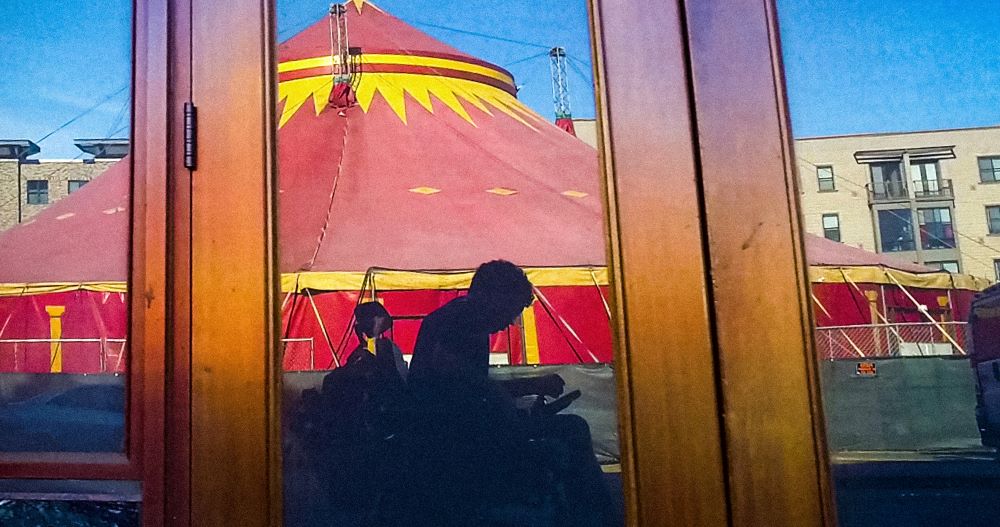 No wonder he rages. A car turns in front of him in the crosswalk, the sidewalk is blocked by some contractor's electrical cord, people avert their eyes and pass by. Sometimes, feeling especially noble, a person will offer to help, when Davenport is actually doing just fine. 
In the Q&A following Monday's premiere at the Sundance Film Festival, the documentary's producer, Keith Wilson, said Davenport shared some of his footage when the two were working on one of Wilson's projects. There wasn't a lot of footage, but it was wholly intriguing, especially accompanied by Davenport's "poetic internal voiceover." "It made me feel alive," said Wilson, and he realized it was the kind of story he wanted to tell.
Q&A moderator and Festival director Tabitha Jackson said the result of the collaboration "is taking us somewhere cinema has never been," a notion that elicited one of Davenport's infectious grins.
One of the aims of his film, Davenport said, is to encourage other disabled filmmakers, to make them realize: "Hey, I can do that!"
"Do you see me?" he asks in the film. After watching I Didn't See You There, you might see Reid Davenport with the clarity of understanding.
Audience member Loren, for one, found it enlightening, writing in the chat: "This was an incredibly thoughtful film. It should be shared widely to help challenge and change perceptions. Formally daring and especially compelling."