By Bailey Pennick
It's well known that here at the Sundance Institute we're committed to championing independent storytelling in all forms. By supporting the next generation of artists, we're thrilled to see their work changing the world that we live in. 
During this year's Festival, we're hoping to inspire future filmmakers and audiences alike with thoughtful conversations and panels about how to use art to create the change we want to see in the world. "Calling All Artists: The Climate Crisis Is Recruiting" — an online event presented by Women at Sundance and Produced by Doc Society, Climate Story Unit — captured the hearts and minds of its attendees with immediate and tactical ways that artists can help Climate Change activists and organizations gain traction through storytelling.
Moderated by Doc Society's Megha Agrawal Sood (Head of Climate Story Unit) and Emily Wanja (Global Community Manager, Climate Story), the discussion included thought leaders from across the globe: Andrea Ixchíu (Maya K'iche' leader and filmmaker, Guatemala), Geeta Persad (climate scientist, USA), Vanessa Nakate (climate justice activist, Uganda), and Farhana Yamin (climate legal advisor, United Kingdom).
The hour-plus conversation ran the gamut on how to best address climate change within all forms of art and storytelling. Below, find five takeaways from the powerful discussion.
1. Now is the time to start telling climate crisis stories.
"I think the reality is that no matter what your art is about, climate change is already in it because we are all already living in a climate change world. But I think we also have to recognize that art is really critical for helping us build the backbone to take on the tremendous and immediate work of addressing climate change. Art is how we understand and process our lived experience which is part of why…it's so important that everybody's lived experience be included in that. If we can reveal the presence of climate change in our art, it'll really give us a way to look climate change in the eye, and to really grapple with what it means for the people and the the things that we love instead of, you know, having this sort of vague sense of foreboding but not really being able to to process it fully. We need that more than ever, and art and storytelling is really where that can come from." — Geeta Persad
"The best time that artists would have gotten involved in the climate conversation would have been decades ago, and I think the next best time is right now… We cannot have art on a dead planet, we cannot have creativity on a dead planet or storytelling on a dead planet, so I think that there is so much power in using the creativity of artists around the world in centering voices of activists from the most affected areas; in centering solutions you know that are needed or solutions that are already being implemented in different parts of the world. So I think that it would be wonderful if artists around the world understood that this is a global challenge that affects all of us. If we have a dead planet then we won't have any more and yet, we all need a piece of art in our life, so, while we still have a living planet, let us use art, let us use creativity, let us use everything that we have to ensure that we can have a more beautiful future for all of us." — Vanessa Nakate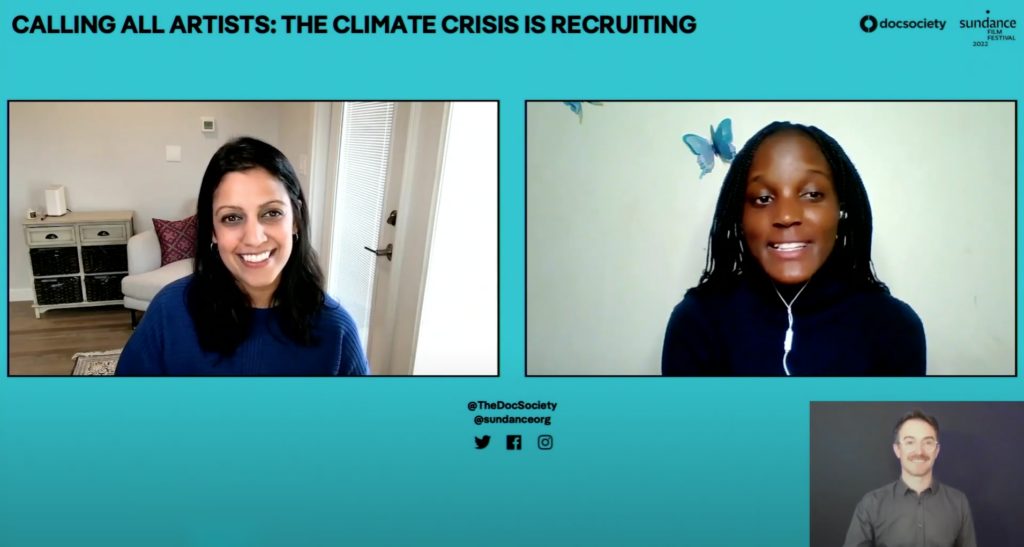 2. We need to break out of bad climate crisis narratives.
"I would say [we need to] shift from talking about the future. Climate is always framed as a future problem, but it's not, so shift to talking about the past. [Also] locate yourself in the present and how you got here. Through that simple shift, you will begin to connect with our own histories, which are complex and which have resulted in nature being decimated for hundreds of years — as a result of very deep systems, which cannot be tackled through the market now alone… [Additionally], In all our climate stories and dialogues, [we need to] focus on justice and not on emissions. We tend to look at climate as a very emission-centric, you know, supply-centric problem, but, actually, if you look at its impacts, and you look at justice and you look at who is emitting and who's impacted, you will get a nuance and much more balanced and much more inclusive picture." — Farhana Yamin
"[The climate crisis narrative] that I've heard recently that's really started grating on me is this idea that we only have 10 years to save the world. Let me tell you why I find that a little bit grating: I think one issue is that it gives the impression that if we don't do it in 10 years then it's not worth it. And, you know, I think it's really important that we recognize that it is always going to be worth it to do whatever we can to make things better. Having that kind of cliff makes it easy for pessimists — or for people who prefer the status quo — to sort of throw up their hands and say, well that's impossible so let's not even try. 
Then I think there's also the flip side of it, where, when you put 10 years on it, that means we have 10 years to get serious, so we can wait out the clock for the next 10 years. But I think one of the most important things is that it perpetuates this idea that solving climate change is going to be a one-and-done thing. It's really important to recognize that we're going to keep making decisions that affect the climate that we live in, and so what we really need is to create a more inclusive, just, and thoughtful system of institutions and legal and economic frameworks. We need to resource the communities that are already doing the work and bring them more into the center, so that we can transform our entire way of behaving as a world, so that we can sustainably approach our impact on the climate system.
 So, I think it's really important to make sure that our narratives present urgency because urgency is necessary, but we can't use that to push through unjust solutions that are going to perpetuate existing systems of power and inequity. We have to remember that we will always have to do the most that we can to protect our climate system starting yesterday and continuing forever, not just, you know, in 10 years." — Geeta Persad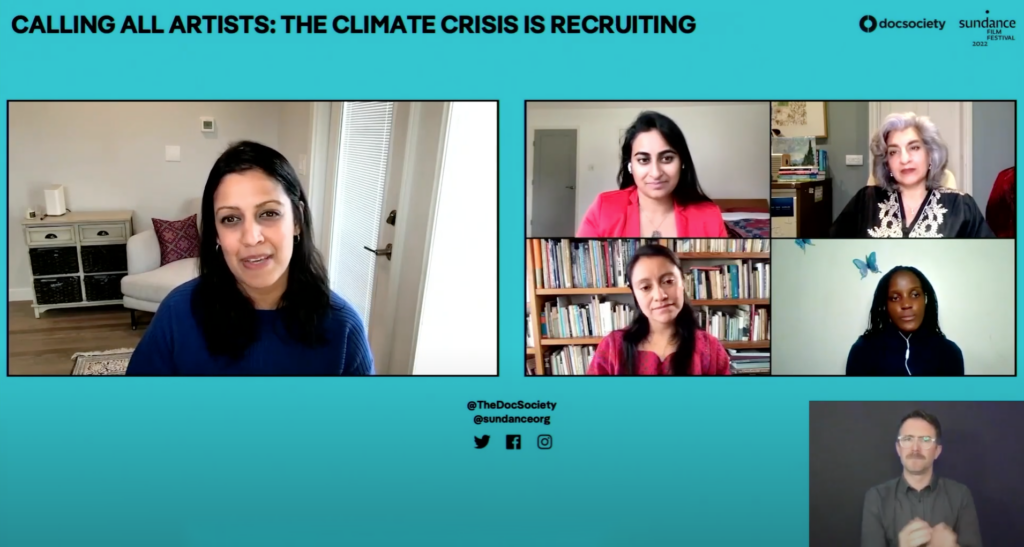 3. The whole world doesn't speak English.
"We have to understand that the vast majority of climate literature and films/documentaries are in English. They still are in English and most of the world does not speak English, you know? So we have to remember [to use] much more ordinary means of communication that are a little less glamorous, like radio, which reaches everyone, podcasts, all the rest of it. Actually we need to understand that our technologies are giving us a huge opportunity to tell many different, wonderful stories and solutions in many different ways." — Farhana Yamin
"The capacity to listen [is so important], because we need storytelling that conjoins past and present. [We need storytelling] that can be able to expose the ongoing violence that affects people, but also, along with the ways in which we make life persist, I think it's really important, also, to have sides of the colonial education. That's why storytelling and film festivals can contribute to deformation of the colonial attitude, by which larger audiences can be able to take up the task of committing themselves to the unfinished process of questioning social and internalized colonial legacies and to define a course to action accordingly." — Andrea Ixchíu 
"From our storytellers we need positive visions of the future. We need to see what a future where we have succeeded in building a sustainable and just climate looks like, because I think, without that, people disengage or they resist change, and we need everybody engaged in participating. People need storytelling that convinces them that there's another way; they need a vision of the wonderful thing that they're running towards — not just the terrible thing that they're running from. What does the best version of 15 years from now look like? I think we need storytelling that shows people that future." — Geeta Persad