by Bailey Pennick
"We hope that we've put together a cinematic experience that will challenge you, disturb you, delight you, and entertain you," says Carey Williams, introducing his latest film, Emergency. As a two-time Sundance Film Festival alum — his award-winning original short film version of Emergency screened in 2018 — Williams knows what he's talking about. And, after the full hour-and-45-minute runtime plus an excited post-Q&A chat, Williams' hopes became confirmed realities.
Emergency is the story of three college seniors, all men of color, who have their plans for spring break frat party glory thrown out the window when they find an unconscious white woman on their living room floor. While they want to make sure the girl is safe, the trio — Kunle (Donald Elise Watkins), Sean (RJ Cyler), and Carlos (Sebastian Chacon) — don't want to risk their futures and lives by calling the police. The film addresses racism, sexism, and classism all within this microcosm of one traumatic night.
Although the above description might not seem like a fun ride, Emergency is filled with great comedic moments from the stellar ensemble cast. At the center of the film is the charisma and charm of this collegiate triumvirate, but Williams is quick to remind you that the bond between grad-school-bound Kunle and freewheeling Sean is essential: "[Emergency] appears to be a college comedy, but it's a love story about two friends who have different world views."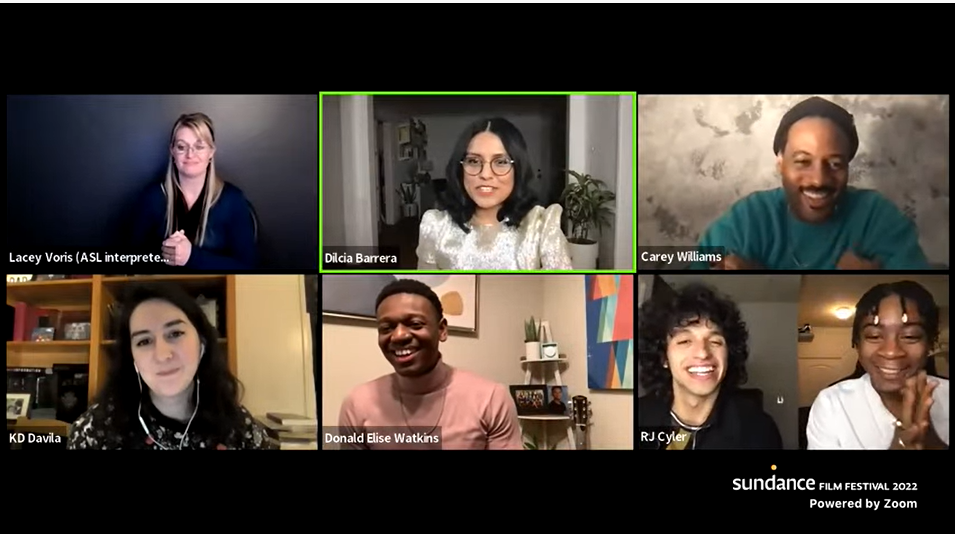 Within the raucous Q&A, the cast emphatically agreed with their leader's description of the film. "The nostalgic brotherhood that was seen through K.D. [Dávila]'s writing… It was so nice to see a love story between three brown men," added Cyler. "That's the tip of the iceberg of greatness [with this film] — that possibility to love your homie without that feeling being weaponized is something that is taken from Black men."
Even through the connected block of virtual boxes, the raw passion and connection between this cast and crew was palpable. "I love tears!" Williams shouts with a laugh any time his colleagues got emotional. "I want tears all day!" Well, when the director gives notes, you've got to listen.