Director D. Smith speaks during a panel at the 2023 Sundance Film Festival. (Photo by Jen Fairchild)
By Vanessa Zimmer
As a child of 5 or 6, D. Smith would lie in bed at night and pray aloud to God. "Just make me a girl," Smith would cry. "I'll forgive you. I know this was a mistake. I'll forgive you. I won't be mad at you anymore."
Preferring to play in the yard with the girl cousins to tossing a football with the boys in the street. Draping a T-shirt into the waistband of shorts to make a miniskirt. Feeling drawn to being a girl. 
There was no abuse or trauma that brought about her feelings. "I was never exposed to homosexuality," Smith says in a Zoom interview. "My mom had regular friends. My dad had regular friends, my grandma… There was no flamboyant uncle that walked in. So I was never 'introduced' to it. It was all natural."
The years went by. Beaten and shamed for any expression of wanting to be a girl, Smith kept busy and distracted, becoming obsessed with attending church at one point. "So I didn't look at transitioning as an option growing up. I never thought it would happen."
Indeed, it took a long, long time. D. Smith went into the music business and became a successful producer, working with such artists as Ciara and Lil Wayne. But the feelings persisted.
"Once I got older and I started seeing how happy other people were, whether they were trans or if they were openly gay, just the liberation and the power that came with that, I was just so turned on emotionally by that, and I was missing out," Smith says. "And I felt like, 'Damn, well, what am I waiting for? What am I waiting on?' But it was the trauma of saying, 'This is wrong,' that was stopping me from doing that."
Eventually, Smith started going to therapy and dressing slightly more androgynously. "Once I started wearing full-on makeup and I started taking hormones, I just disclosed to people that I'm transitioning," she says. 
The music industry people stopped coming around. She couldn't contact clients. Business dried up. For 2–3 years, she was homeless, she says, sleeping on friends' couches for weeks at a time. 
"It doesn't matter how out of the way you are or how many times you wash the dishes or clean up behind yourself. There's nothing like having your own space and no one on your couch when you wake up in the morning," she says. "No one's ever kicked me out because I
was difficult to live with. It's just, you got to read the room, honey. Listen, my girlfriend's bringing a guy over now, and they're cooking in the corner, and I'm sitting here watching TV."
She couldn't believe she was in this situation. She had been doing so well as a music producer. How could things turn so quickly?
But D. Smith wasn't down for the count. Kokomo City became her reset button.
Smith's idea was to tell the story of Black transgender women in the sex industry, many of whom have little choice but to go into that line of work. She couldn't get filmmakers interested, but a friend bought her a camera, and Smith started filming it herself. The directing, the cinematography, the editing, all of it. Bottom line: Kokomo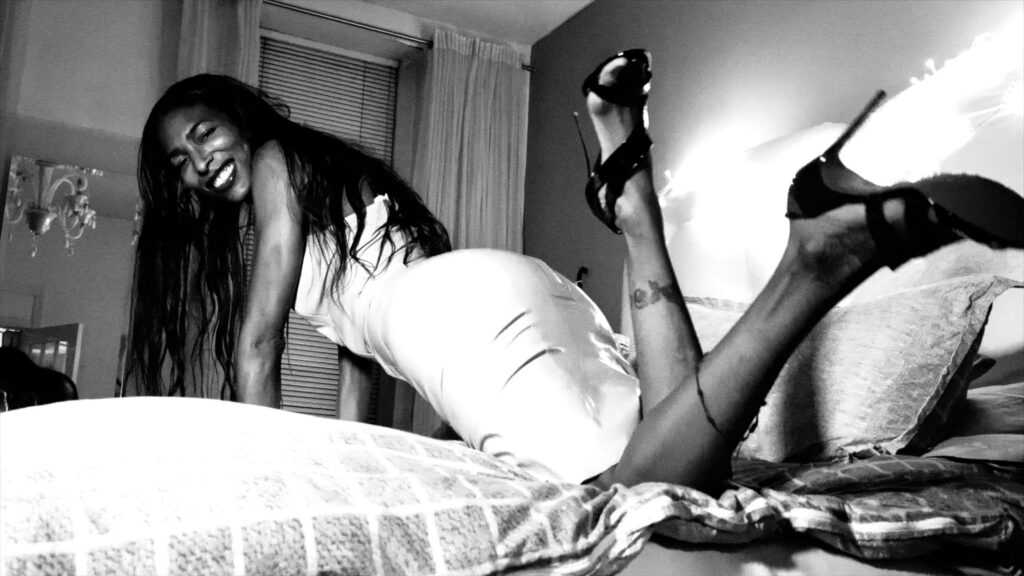 City premiered at the 2023 Sundance Film Festival, winning the NEXT Innovator Award and the Audience Award in the same category. Magnolia Pictures picked up the documentary for a July release.
The documentary film takes a raw, unfiltered, enlightening, at times even funny, look into the world of four trans women in Atlanta and New York — Koko Da Doll, Liyah Mitchell, Dominique Silver, and Daniella Carter. They appeared on stage, arm in arm beside Smith, at the Festival premiere in January in Park City. 
"I just wanted to come [at it] at a different angle and just show another side of these women," Smith explains in the Zoom interview. "I didn't make the film to exploit them as sex workers. I just wanted to do something creative and a little more lighthearted and take a different route than the cliché transgender story."
The film, shot in crisp, dramatic black and white, illustrates the women's strong personalities, the risky side of their business, and the dichotomy between them and the rest of the Black community. Koko's family rejected her, and she started sex work at age 16. Two of her friends were killed by clients, and she has felt endangered at least twice. But she doesn't know anything else. Koko cries as she tells D. in the film: I've wanted to tell my story for a long time.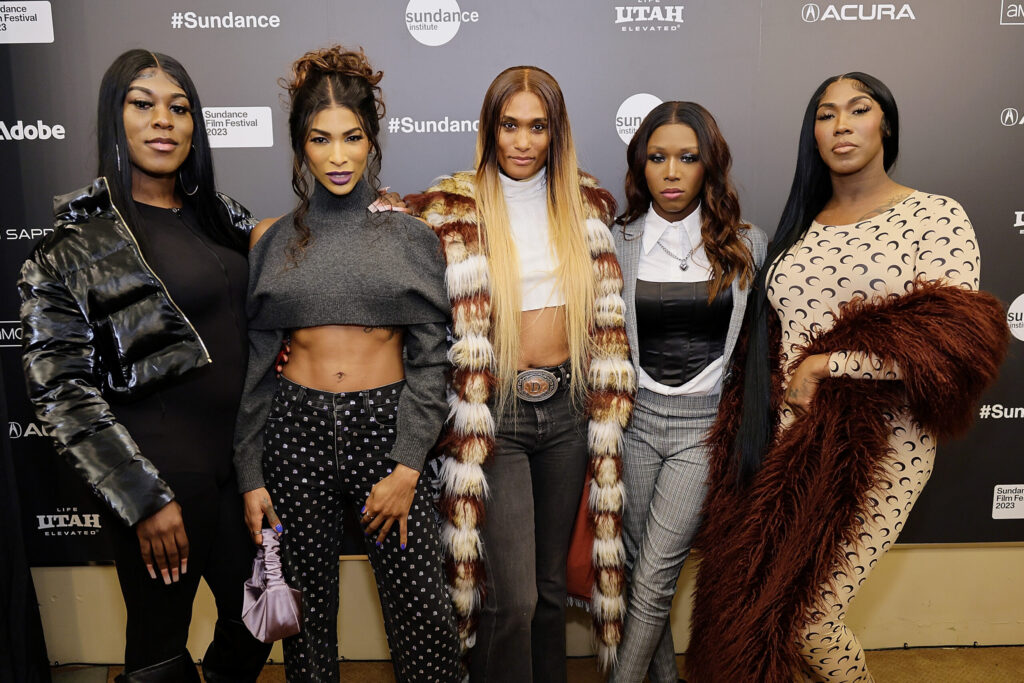 Three months later, in April, Koko was shot dead on a street in Atlanta. The news devastated Smith, Mitchell, Silver, and Carter, who were so taken by this bold, humble, and genuine woman. Smith had still been presenting the film on the festival circuit.
"I have to move forward," Smith confides. "And I think that, for the most part, people are moved. They're still inspired. They still laugh. They're still touched. They're still curious. They're still supportive." 
Smith believes she and Koko were destined to meet: "It was literally divine, heavenly intervention."
"I was trying to tell a story of happiness and triumph, some triumph, but also just the reality of these women's every day. And I was trying to avoid tragedy. I was trying to," Smith says. "But this happening, it was just like: 'This is the truth, D. You could package it the way that you want, but this is the truth.' And Koko's life was that testament. And I hope and I know that her life will not be in vain, and it will continue to inspire trans women."
Smith considers people like herself pioneers, fighting to make things better, aiming for a world that doesn't hate, shun, or retaliate against trans women and men, drag queens, and other members of the community.
"Wherever we are in the umbrella of the LGBT community, we're all pioneers at this juncture," she says. "We're not all living in the luxury or the opportunity that we're creating for future generations. We want that. We want that our pickets and the killing of our sisters is going to change things within our lifetime and make things better for us personally right now. The truth of the matter is, it's not."
Again, it starts with awareness, and then it takes a lot of time. Meanwhile, a trans woman's primary defense is confidence. Not confrontational, but confident, happy and comfortable with being who you are, feeling maybe a bit magical. "Because trans women are magic," says Smith.
Smith is in a good place right now. Her boyfriend, B5 member Dustin Michael, whom she has known for almost a decade, recently publicly declared himself in a "beautiful relationship" with her. He wanted his love out in the open, to denounce violence against trans women, like the killing of Koko. Smith is visibly proud and grateful, maybe even a bit giddy.
"As a trans woman, you don't want to force anyone to do something that they're not comfortable doing, but you also want to feel validated," Smith says. "You want to feel safe. You want to feel wanted. You want to feel loved, publicly. We all do. I mean, all women want that. But trans women, girl, we fantasize about stuff like that. It's not even sexual. We just want that. It goes such a long way."