Elisabeth Holm, Kickstarter.com
Elisabeth Holm is a Brooklyn-based producer and Film Program Director at Kickstarter. She most recently produced Keith Miller's 2012 Slamdance Grand Jury Prize-winning Welcome to Pine Hill, making its NY premiere at BAMcinemaFest next month, and is currently producing Gillian Robespierre's feature comedy Obvious Child, starring Jenny Slate.
Three weeks ago independent producer Braxton Pope (Shrink, The Take) took one small step for film and one giant leap for independent filmmaking when he launched a Kickstarter campaign for The Canyons, a new narrative feature written by Bret Easton Ellis (American Psycho, Less Than Zero, …you definitely know who this person is) and directed by Paul Schrader (Taxi Driver, American Gigolo, …again, really, c'mon now.)
With over two weeks left, The Canyons has already surpassed its funding goal of $100,000, with $128,000 from over 750 backers, more than half of whom pledged $25 for a DVD and poster or $50 for a Blu-Ray and posters signed by Ellis and Schrader. The project video features Pope, Ellis, and Shrader speaking candidly about the film and why they're on Kickstarter. For upper-level rewards they offer creative experiences like Ellis reviewing your novel, and special collectors' items like a De Niro-signed money clip gifted to Shrader after wrappingTaxi Driver. They explain the funds go to things like more shoot days, higher quality gear, and to "maybe have two makeup people instead of one or zero." The Canyons quite easily answers the question of "why would veterans like these guys use Kickstarter?" with the better question — "Why wouldn't they?"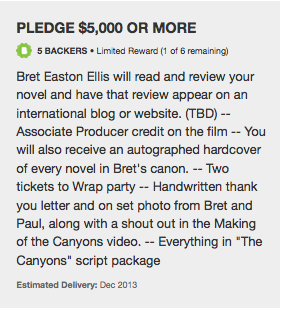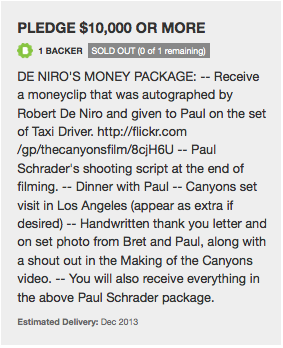 While the most-funded Kickstarter film of all-time is currently Steve Taylor's Blue Like Jazz (now in theaters nationwide!), The Canyons is a kind of watershed moment for film on Kickstarter regardless of the final total raised. After years of working within the confines of the studio system, these — and I mean this with the utmost respect —old school Hollywood luminaries are thoughtfully and authentically embracing a critical asset in a way that no studio can manufacture or guarantee: their audience.
You know "audience," that golden goose that rolls right off the tongues of literally every industry person you've ever heard speak on a panel / read on a blog / had casual-but-secretly-also-potential-investor coffee with / happened to sit next to on a flight to a festival you hoped to god sold out your screening? Waking up in a 3 a.m. cold sweat haunted by the truths of Ted Hope's tweets, filmmakers of all kinds are turning to Kickstarter as not merely a platform for funding, but — all the more critical — a space for engagement. And whether you're finishing your thesis or gunning for an Oscar, Kickstarter is a place to connect and conspire.
Every so often I'll be chatting with a filmmaker about Kickstarter (weird, right?), and they'll say something to the effect of "Oh yeah, I've been thinking about that, but I'm just not into begging for money." That's cool, dude; pretty sure no one is. Good thing Kickstarter is not a place for that, or I would definitely work elsewhere!
The truth is Kickstarter is about much more than money — it's a place to create lasting and meaningful relationships, to invite people to participate in your process, test ideas, showcase progress, generate excitement, cultivate a community who'll actually see your film, and retain creative control throughout. A successful campaign can be an opportunity to attract a variety of in-kind support, assure grant-givers, declare yourself an artist with a unique vision, and validate that vision with public support. Strategic filmmakers walk away from Kickstarter campaigns with previously unknown Executive Producers, a mailing list, slew of press, stack of DVD orders, and most of all, a community that's proud to be a part of it.
Whether your funding goal is seven or 75 percent of your total budget, running a Kickstarter project has become an essential component of any independent filmmaker's outreach, which is an essential component of making a film that people see, which one would hope is at the very least a goal of your being in this business in the first place!
I recently checked in with Pope to see how he was feeling about the giant leap. He replied in email:
"You guys are really a terrific force for creativity. I have been doing a lot of interviews that investigate the crowdfunding angle, and some people don't get it of course ("why don't they borrow money from Scorsese?") because it's a relatively new way of doing things, but I think the financial resources it generates and the equally important community building and engagement aspects make the platform very powerful. I will be sweating a little bit until (if?) we make our goal, but I have really enjoyed the experience thus far, not to mention people coming out of the woodwork to offer assistance.An indie films takes a village. Especially when you don't want to be beholden to those forces, e.g. studios, whose agenda may not be in the best interests of the film's vision."
Art takes a village that we build ourselves, and we build it to communicate, connect, and inspire. It's encouraging to see the veteran visionaries behind The Canyons embrace this. Maybe it's not such a giant leap after all.
"You guys are really a terrific force for creativity."