By Thuc Doan Nguyen
There are signs that Vietnamese Americans and our stories are the next powerhouses when it comes to filmed entertainment. Vietnamese American actress Hong Chau, born to Vietnamese boat people parents at a refugee camp and raised in New Orleans, is now an Oscar-nominee for her role as "Liz" in The Whale. Ke Huy Quan is the first Vietnam-born boat person refugee to win a Golden Globe for his performance as "Waymond" in Everything Everywhere All At Once. He's also nominated for an Academy Award for the same role. Even before this, a tidal wave of support and interest in storytelling about the Vietnamese Diaspora began to form — with Vietnamese American lead characters. As a boat person refugee myself, this movement means a lot to me. I never thought I'd live to see the day when not one, but two people like me would be on an international stage as Oscar nominees. 2023 has also given us the Sundance Film Festival feature The Accidental Getaway Driver, a bellwether of what's to come— starring Vietnamese Americans Dustin Nguyen and Hiep Tran Nghia. 
Looking towards the future, you'll notice Vietnamese American faire on the rise with mainstream film and TV project announcements being made. With the 50th anniversary of the Fall of Saigon ahead of us in April 2025, there are a handful of promising feature films and shows helmed by Vietnamese Americans in the works. 
Four projects by Vietnamese American men are slated to premiere in 2023–2024 — a feature, a series, and two television pilots. In 2025, specifically for the Fall of Saigon's half-century anniversary, a feature written,directed, and starring Vietnamese American women and Black women together will be released called Scent of the Delta. In addition to this, a documentary about Vietnamese New Wave Music will be out by Sundance alum Elizabeth Ai. 
There are a variety of formats you'll be getting your doses of Vietnamese American culture delivered to you, on all kinds of screens, from multiple points of view. Like with every ethnicity, nationality, and diaspora, Vietnamese Americans are not a monolith either. There will be content from Vietnamese Diaspora members of various genders, backgrounds, and income levels. Some of these projects you'll recognize from well known books and some are about the lived experience of the creators.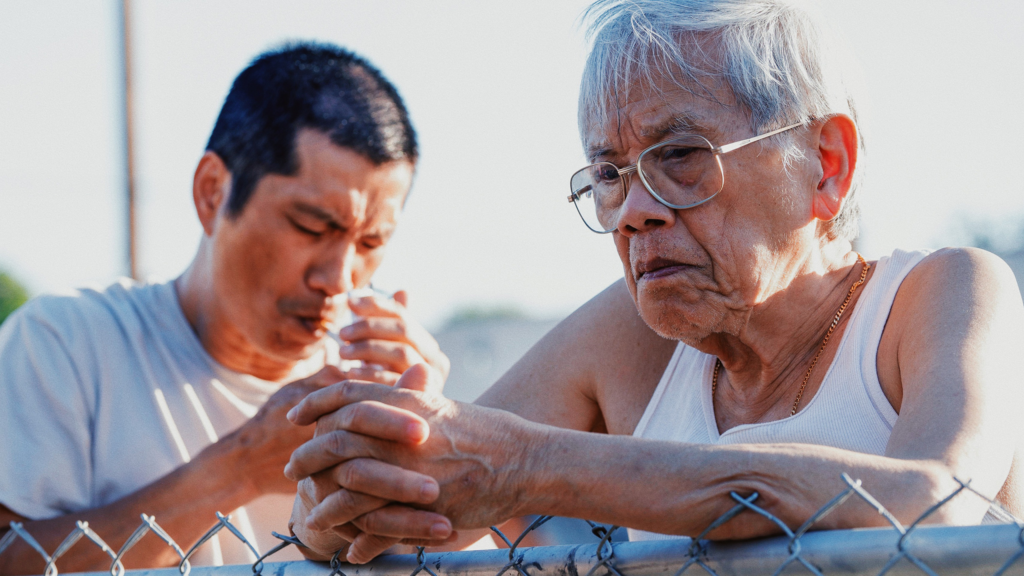 On Earth We're Briefly Gorgeous
Poet and author Ocean Vuong's 2019 book On Earth We're Briefly Gorgeous is being adapted for the big screen, produced by A24. The film will be about a gay Vietnamese American man coming of age in Bridgeport, Connecticut, in the midst of America's opioid crisis who discovers his first love. Vulture stated that at first in early 2020, it was to be a limited series, with Variety later reporting in December 2020 that it would be for a "theatrical release." As of May 3, 2022, the script (also by Vuong) has been completed, says Lithub. Bing Liu, coming straight from the documentary world, having directed the Oscar-nominated feature Minding the Gap (a well received 2018 Sundance film that won for U.S. Documentary Special Jury Award for Breakthrough Filmmaking) will be helming.
The Sympathizer
Pulitzer Prize–winner and USC professor Viet Thanh Nguyen's book The Sympathizer is being made into a show, also by A24 and others. The lead is a mixed race white and Vietnamese man called "The Captain," a double agent spy who is embedded in the Vietnamese refugee world in Southern California. Robert Downey Jr. is producing and will be embarking upon the task of playing multiple roles — as all of the story's bad guys. There's concern that he may overshadow this project about Vietnamese Americans, but time will tell. The project was in casting in mid-2022 and is currently filming in the Los Angeles area and abroad. 
Early Risers
Vy Vincent Ngo, who wrote the movie Hancock, starring Will Smith, is back with a new independent TV show called Early Risers, which features a Vietnamese American male lead. It chronicles Ngo's lived experience as part of Hollywood and moving back to Vietnam. I worked for Ngo as his producers' and writers' assistant for Warner Brothers Television and Jerry Bruckheimer Television. 
The logline for Early Risers, as told to me by Ngo, is: "A wayward LA screenwriter finds kinship and fraternity in a group of expats living in Saigon (circa 2008), a city in the pituitary throes of economic and social change." It's an ensemble comedy featuring CS Lee (of Dexter fame), Vietnamese comedian Dat Phan, Kristian Bruun (Orphan Black), and Phi Vu (Happy Death Day), including an amazing cast of local Vietnamese talents that will change how the world historically looks at this Southeast Asian country. 
Filming in March and April of 2022, the production team was one of the first to film in Vietnam, "post-COVID." The production was independently financed, and Ngo masterminded the project. He put the team together as such — "producer Peter Toumasis, director Zach Merck and I are all former Tony Scott acolytes who regrouped to pay homage to our late great Top Gun director." 
When I spoke with Ngo, he comments on why he's making Early Risers now, after he spent many years being part of the traditional Hollywood system and what message he wants to send. "My show is a Trojan Horse to Asian representation by design. We have lots of Western actors as a lubricant towards discovering Asian Americans as well as Asian artists, actors, comedians, etc.. Ideally, I would love to populate the rest of this show with all the funny Asian actors we have and give them a platform or substratum to perform and let their flags fly. Being set in Vietnam also gives the characters distance from their own western perspectives and a chance for everyone to view western culture from the outside in. Here's an example — When you watch a NFL football game in a bar in Saigon at 7 o'clock in the morning, you can't help but see the game, the commercials, the American culture from which they all came very differently." Hence the name Early Risers points to the time difference and the difference in perspective of expats trying to experience bits of their American culture back in the motherland.
Early Risers' casting director is Shyree Mezick, a mixed race trans-racial Asian American adoptee, who is also the casting director for Scent of the Delta (brought on for both projects by yours truly). Besides this being a fun bit of trivia, Shyree is an excellent bridge not just of our projects, but of identifying the next generation of talent that will rise to better Vietnamese American and Asian Diaspora representation. It's great to team members who have insight into our diaspora and dual-cultures. Every element matters and it comes out on screen. 
Mezick gives an inside look about her background and process, "Having worked on a number of Asian and Asian-American projects over the years, I'm inspired by the rich well of talent we have to work with. Working on Early Risers, we had such a vast and expansive pool of incredibly talented actors in the US and abroad. We were able to explore talent in Vietnam and it gave me great inspiration for future projects including Scent of the Delta. These overdue projects will highlight the work of stunning Vietnamese and Asian actors." With casting beginning on Scent of the Delta, it'll be exciting to see if there could be crossovers with Oscar nominees and cast members from other Vietnamese American centered projects.
AZNBBGRL
AZNBBGRL is a drama pilot coming out from Freeform and 20th Television. According to Variety, Natalie Chaidez, Dinh Thai, Kai Yu Wu, and Melvin Mar are the creative team. The story follows three Vietnamese American teen girls in Orange County, California, who get involved in Asian American street gangs. Hopefully it will give more depth by subverting and overcoming any stereotypes of "ABG-s" aka "Asian Baby Girls" (like the ones we see in the Fast and the Furious or Austin Powers) that still lends to the idea of Vietnamese American women as sex objects. There's also hope that this will challenge the onscreen stereotypes that Asian Americans are all part of "Triad"-like gangs. Thai is a Southern California local who grew up in an Asian enclave and there's great authenticity in that.
Scent of the Delta
Scent of the Delta is a gritty independent drama feature being made by those with the real lived experience [ myself and my team]. It's about the working poor who are Vietnamese American and Black in New Orleans East, with me being a boat person refugee who was brought up in poverty in the American South in the 1980s. The lead characters and actors are Vietnamese American and Black women — as are the key creatives behind the scenes including award winning writer/director Nikki Taylor Roberts.
Our story is a 2020 Sundance Institute Labs Round 2 placer that centers a Vietnamese American woman who confronts the continued violence of Asian hate (which didn't just start with Covid). There's excitement with the lead role being recast, after some setbacks with those who wanted to whitewash and "Crazy-Rich-Asians-wash" the project. The feature is being produced by Maria A. Judice who is a producer of the 2022 Sundance Film Festival alum Neptune Frost. She is also the writer, director and star of Elephant, winner of Indie Memphis' Audience Award. Vietnamese American godmother of culture, Le Ly Hayslip, who Oliver Stone centered in a feature he directed about her called Heaven and Earth (part of a trilogy with Born on the Fourth of July and Platoon), is also on board as a consulting producer. Additional producers, who will be revealed soon, include folks responsible for other feature film projects that hit social justice messages home.
Scent of the Delta has an Asian American director of photography, Allen E. Ho, who's also part of the crew for AZNBBGRL (more fun trivia and crossover). Scent of the Delta will also feature a mixed race Vietnamese American Louisiana-raised, New Orleans-based, music composer in Dylan Tran. This is a history making team that will comprise of New Orleans locals. Coincidentally, the film will feature Vietnamese New Wave music which endures and was a key part of life for boat people refugees.
New Wave
To add to this list, Sundance Catalyst alum, Elizabeth Ai, is making a feature length documentary called New Wave about an era where Vietnamese refugees made their mark with '80s style and tunes. The project is currently in post-production and will hopefully come out in 2023/2024. Ai is a 2022 Sundance Adobe Fellow. She's also developing a television series based on this same premise. Ai has stated that she makes Vietnamese-American-culture-centered work because of her daughter. More on Ai's dual New Wave pieces soon.
You heard it here first. The Vietnamese American New Wave of narrative film and television is cresting, not without its challenges. However, audiences everywhere will get whole new views of the Vietnamese Diaspora in the United States no matter what. 
With Ke Huy Quan and Hong Chau in the spotlight and all of these projects being made now, this real life flow exemplifies a tagline of Scent of the Delta: "Rising Tides Lift All Boat People." Get on board. Here we go!