A Ukranian family documented their life under siege, and a professional filmmaker followed along, in The Earth Is Blue as an Orange.
Photo courtesy Film Movement
By Vanessa Zimmer
The Earth Is Blue as an Orange, an award-winning Sundance Film Festival documentary about a family living amidst war in Ukraine, will be distributed throughout North America by Film Movement, Variety reports — in part to draw attention to the recent Russian invasion of the country.
Iryna Tsilyk won the directing award at the 2020 Sundance Film Festival for the feature, which follows a single mother and her four children as they help eldest daughter Mira, an aspiring cinematographer, document their life under siege.
"Eventually, the two projects fuse into a single vision that gorgeously encapsulates the extremes of war, both its explosive trauma and its mundane peripheral existence in everyday life," according to the Festival Film Guide. "With miraculous insight, The Earth Is Blue as an Orange observes a family — and a filmmaker — cope with war using their cameras, working in tandem to create meaning out of a meaningless conflict."
Film Movement also bought rights to two Ukrainian Oscar entries, planning theatrical distribution for all, as well as online platforms. The company website lists past and upcoming screenings for The Earth Is Blue as an Orange in specific cities, like Houston; Montreal; Rhinebeck, New York; and Nashville, Tennessee.
"We're seeking to both support the Ukrainian film industry, as well as to offer North American audiences an eye-opening window into a world most can't imagine," according to a Film Movement statement. "As tragic and unsettling visions of war in Ukraine flash across our screens, hearts are heavy and minds are curious as to what life must be like during wartime."
Film Movement president Michael Rosenberg issued a strong message on the plight of Ukrainians in the Variety article: "While Film Movement's mission is to unearth undiscovered filmmaking talent from around the world, it's currently the voices of Ukraine which should now be echoing the loudest." 
Russian-Ukrainian relations have brought unrest since 2014 (when Russia annexed Crimea from Ukraine) to eastern Ukraine, parts of which are controlled by separatist groups. In a statement published by Deadline on February 25, which we have echoed support for, a collective of Ukranian filmmakers said: "We've talked about the war in eastern Ukraine in our films for eight years. You watched them at the festivals. But this is not a film, but our reality. And today this reality has spread throughout our country without exception."
Among those making individual statements in the Deadline article was Tsilyk, of The Earth Is Blue as an Orange, who wrote, in part: "I know that Russians won't stop their Fuhrer. But the whole civilized world can do that, we have many kinds of tools and 'weapons.' The main thing — do not watch silently as Leviathan is trying to devour Ukraine. Your country can be his next aim." 
The Sundance Film Festival has screened Ukrainian films over the years, including the following features that are enlightening in regards to life in Ukraine and its relationship with Russia and the world.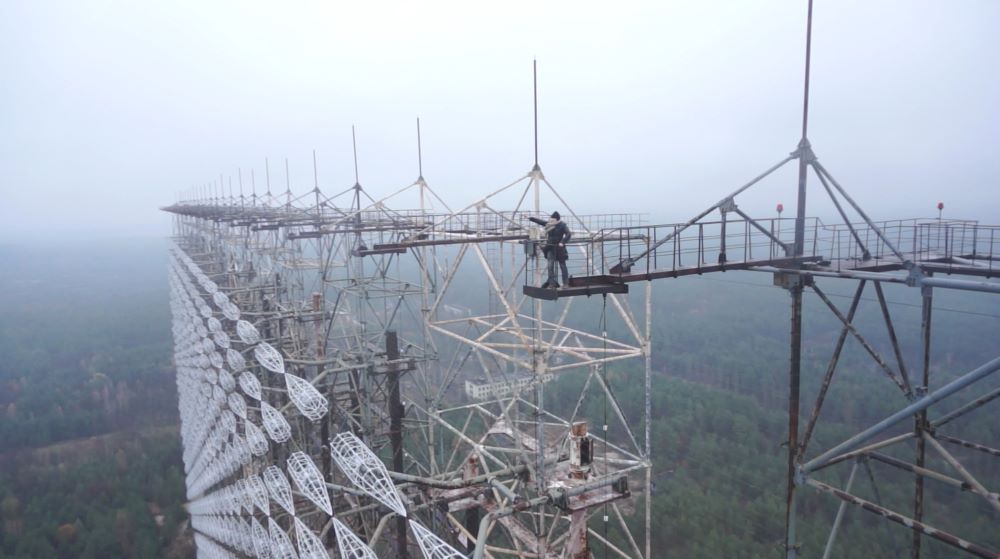 In the award-winning documentary The Russian Woodpecker, Fedor Alexandrovich became fascinated with a mysterious and massive Soviet-constructed radio antenna near the Chernobyl site.
Raspad (later changed to Decay) (1991) — The film, directed by anti-nuclear activist Mikhail Belikov, is a fictional account of the 1986 Chernobyl disaster in northern Ukraine — and the slow, invisible death that follows in its wake.
A Friend of the Deceased (1998) — Shot in director Vyacheslav Krishtofovich's hometown Kiev, the film is ostensibly about the disintegration of a marriage. But: "This beautifully subtle film is full of finely described moments that evoke a world in transition and people struggling to keep up while all the rules are changing," according to the Festival Program Guide.
Odessa Odessa (2005) — This documentary follows the vanishing Jewish community from Odessa, Ukraine, as they settle in places like Israel and the United States. In their new "homes," it seems, they are no longer Jews but simply "Russians," and always outsiders.
The Russian Woodpecker (2015) — Winner of the Grand Jury Prize in the World Documentary category, this film is the story of Ukrainian artist Fedor Alexandrovich, who discovered a secret about the Chernobyl disaster that sheds light on, in the words of the Festival Program Guide, the "cruelty inflicted on Ukraine by its Russian neighbors." Should he keep quiet or tell the world? 
Klondike (2022) — Winner of the directing award in the World Drama category, this feature is the story of an expectant mother and her family in eastern Ukraine, near the border with Russia, who struggle for normalcy in a new war zone.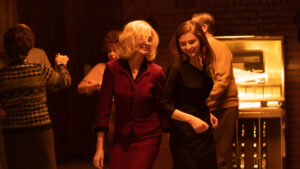 Anne Hathaway and Thomasin McKenzie star in the suspenseful "Eileen," based on the novel of the same name by Ottessa Moshfegh. By Lucy Spicer As
Read More »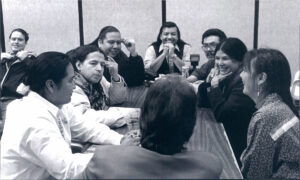 (left of center) Native Cinema curator Stephen Roe Lewis and (center) spiritual leader and storyteller Larry Cesspooch along with the In the Tradition: New Dimensions
Read More »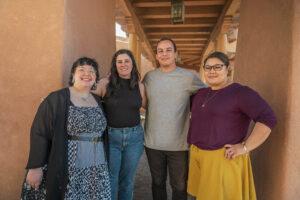 Over the course of Native American Heritage Month, we have highlighted some of the Sundance Institute–supported Indigenous artists, including conversations with Jana Schmieding and Alex
Read More »