by Ianeta Le'i
For Native American Heritage Month, the Sundance Institute is proud to highlight conversations with former and current Indigenous Program fellows that focus on the bi/multiracial experience.  Indigenous Program Manager Ianeta Le'i Zoomed with Jamie John — Anishinaabe interdisciplinary artist and alumni of the Sundance Full Circle Fellowship — to discuss their multiculturalism within their Indigenous identity, and how it influences their art, identity, and expression.  
Jamie John, an enrolled citizen of the Grand Traverse band of Ottawa and Chippewa Indians, is a Two-Spirit, Anishinaabe, and Korean-American interdisciplinary artist based in Northern Michigan. Born to an Anishinaabe mother and a Korean immigrant father, Jamie John's cultural heritage expanded when his mother met his current father figure, who is a descendant of Olmec and Nahua Indigenous peoples from what is now known as Mexico. This multicultural influence and the unique lens it provided to Jamie John can be seen within their work as an artist and filmmaker. 
How do you feel like your background with this rich, mixed heritage has influenced your work and your overall sense of artistry?      
Other than maybe spending more time with my adopted family, I don't think I'd change how I grew up. It took me forever to realize that I was "the weird one." Nobody else did the things where, like, "Oh, you don't think about having a relationship with land or plant medicines or water?" Or fall being the time when the veil is the thinnest and I can talk to my ancestors, and I can receive messages. Not realizing that sometimes just pretty falling leaves [is fall] for some people, or having summer being the season for Pow Wows. Realizing that this wasn't the norm—or that this afforded me a connection to something that not everybody had—was something I maybe wasn't confronted with until I went to boarding school at Interlochen when I was 14.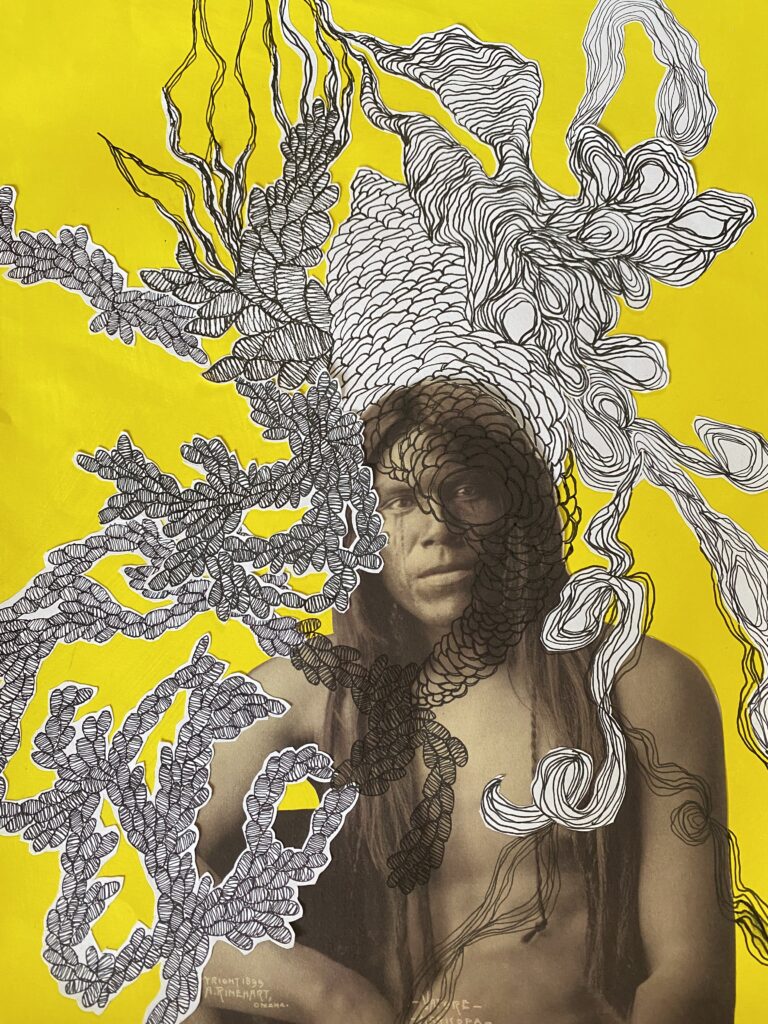 Where is that?
Interlochen truly isn't far from where I grew up. It still is what is Anishinaabe territory, but being a boarding school student, who even was only a few hours away from my community, [I was] not able to go to certain events because I had to study or because I was supposed to be on campus. It was a deliberate choice [to go to boarding school], but I think I got kind of lost when I was maybe 14 or 15.
Has that experience shaped your art and influenced any of your creative process?
I think that period of loss led me to uncover this question of what do I have that no one else can bring to the table? Or what can I say that no one else maybe has the lived experience to talk about? Relying on my lived experience and trying to articulate it, or bring it about in a way that allowed me to understand more fully how I navigated the world as someone who is of mixed Indigenous descent. Of someone who is very pale, but is not white. 
Navigating those things, they can be really hard to put words to when you are 17, 18, 21, as I am now. I still sometimes don't know is this the experience of an Indigenous person? Is this the experience of a Korean-American person? Sometimes it's both. Sometimes it is one or the other. Oftentimes it just comes back to being my lived experience and it doesn't have to be anyone else's. I find that it doesn't have to be particularly relatable, but the more personal I often make things, the more universal they become.       
I feel the same way as well. That's why the Indigenous Program is so special to me, because it helped me answer that question, "Well who am I? Am I Samoan, Am I Japanese, Am I white?" The Indigenous Program helped me realize I am all of those things and I can be all of those things. One thing I love about our community is that when we have a chance to sit down and really get to know each other, we realize, like you said, the more personal we make our work, the more universal it is. That's what makes a film or art so special. I just love when everything clicks and you have that special work that connects with so many people that you didn't even think would connect with it. That's how I feel your art is and the things you're doing. 
Talking about all of those lived experiences, the amalgamation of your background, and how everything is fluid: What do you think is your favorite thing about your multiculturalism?
I think my favorite thing is my ability to more fully understand intersections and empathize with people who live at those intersections. Whether they be other mixed Indigenous people or of immigrant status or they are Southern Indigenous and they don't have their voices heard during these conversations about Indigeneity. Understanding that I have family that often feels those same things or I have people close to me that feel those same things. If I am in the right position, if I am afforded facilitating those intersections to be heard and voiced, I would like [to] understand and relate to those people without feeling like I am stepping on toes or speaking over someone else's lived experience.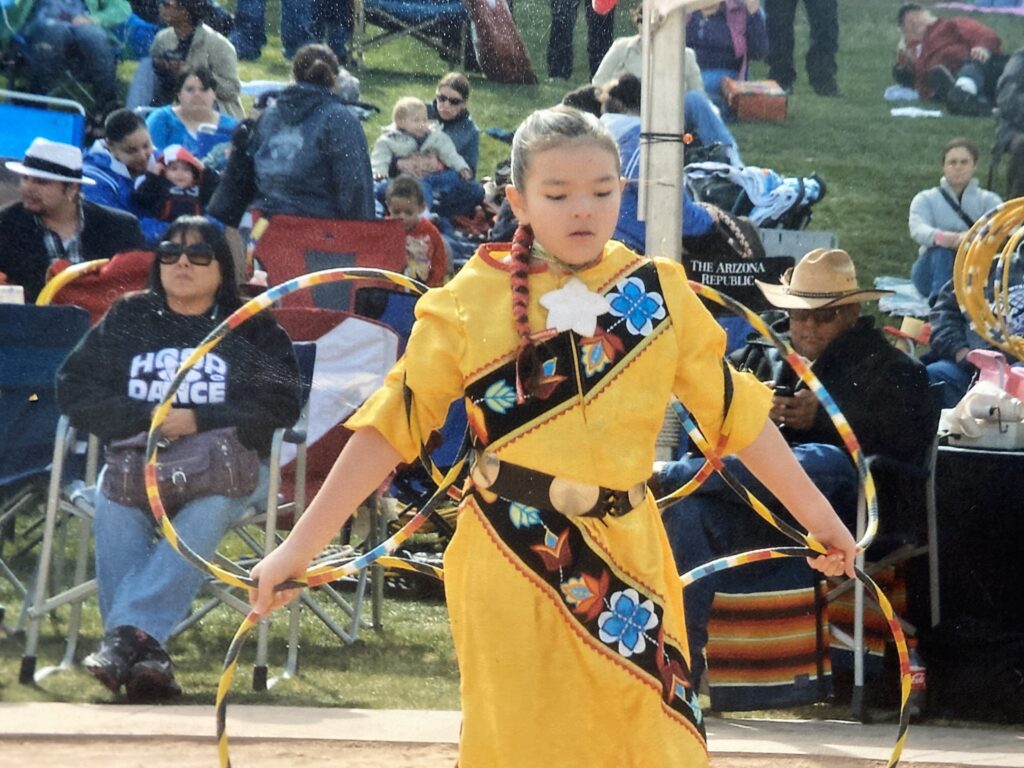 That also brings everything back full circle about when you asked yourself, "What can I bring to the table that nobody else can?" That is it, right there.
I remember when we first met I asked you what your favorite Indigenous food was. You gave me an answer that I still think about to this day and I can't wait to try it. 
Oh my gosh! Was it my Auntie's wild rice and berries recipe?
Yes! Can you tell us a little bit about that?
My Auntie Tina just brought that over for Ghost Supper. Very exciting, very exciting! But, what else is very exciting is that I actually went harvesting wild rice for the first time this summer. The dessert of the wild rice and berries and maple syrup uses rice that was harvested in the Betsie River watershed near where we live, near where we are right now. So, where I got rice was where people of my nation had gotten rice for so long, and I got to eat it and feed all of these people who hadn't been able to eat it in so long. 
It is a mix of wild rice, often it is only strawberries and blueberries, but there were some raspberries in there this year which was great. It added a nice tartness, I loved it. The final ingredient is maple syrup. They make a really, really great dessert.
That sounds so good! There is something about Indigenous food that just satisfies the soul. I can imagine how satisfying eating this is for your family. The nourishment, history, and background of how special it is.
I know you have a lot of things in the air right now, and juggling a lot of things, but please share with us a little about what you have going on and where people can see your work?
I have the Lansing Art Gallery show/ Michigan Made show that will be up until the end of December. I was just awarded a Cousin Grant, which was amazing! I am very excited to be using that to make new video work. I am wanting to do more work like my short Sugar and Rice. I am so proud of that video. Instagram and Patreon is where you can find what's happening now for me.