By Shani Harris
The U.S. has the highest maternal mortality rate of any high-income country according to a recent report by The Commonwealth Fund, with the high rate of cesarean sections cited as a contributing factor. The U.S. Centers for Disease Control and Prevention has confirmed that racial disparities are present in the data: Black women are three times more likely to die from complications during pregnancy than white women are.
Aftershock — supported by Sundance Institute's 2020 Catalyst Forum and winner of the Special Jury Award: Impact for Change at the 2022 Sundance Film Festival — puts a mirror up to the problem. The documentary, which was also honored with a Peabody Award and nominated for an Emmy, focuses on the grieving families of Shamony Gibson and Amber Rose Isaac, two Black women whose traumatic — and preventable — deaths were the result of complications that arose after C-section surgery. 
Advocacy has historically resulted in health-based initiatives, such as Black Maternal Health Week, recognized by the Health Resources and Services Administration's Maternal and Child Health Bureau every April. Aftershock's far-reaching impact has ignited a hope that increased awareness can save lives.
"We had more than 250 impact screenings, including major hospitals, insurance companies, universities, medical schools, medical associations, and grassroots community screenings," said co-director Paula Eiselt in July 2023. 
Aftershock was acquired by Disney Entertainment's Onyx Collective and ABC News Studios and became available to stream on Hulu on July 19, 2022. On the anniversary of its release date, we're revisiting the influential documentary through the following interview with directors Tonya Lewis Lee and Paula Eiselt, conducted at the 2022 Gordon Parks Foundation Awards Dinner and Auction, where Lee and her husband, director Spike Lee, were honored with an award.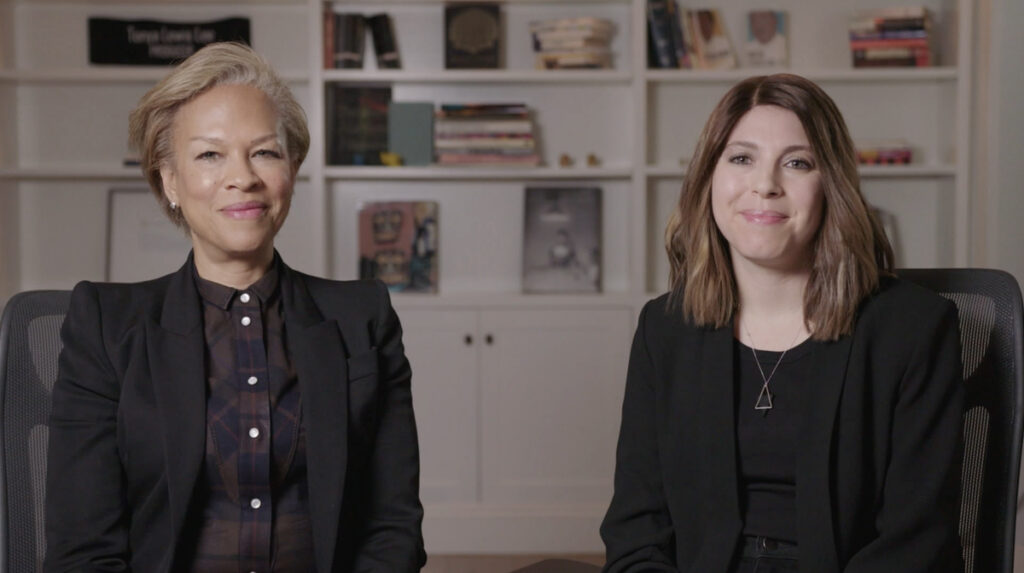 Congrats on Aftershock. I saw it at the Sundance Film Festival, and it was very powerful. However, it was very sad that it was a tragic story that had to be told for changes to be made. Can you talk about the impact that you wish for the film to have? 
Tonya Lewis Lee: Absolutely. The last thing I want is for women to feel afraid to give birth. So, we did decide to tell the film through the lived experience of people who did lose a family member, who got activated through their love of a person they lost and the love of their community. 
It is my hope that the film is a conversation starter so we can improve the outcomes here in the United States. The United States has the highest infant and maternal mortality rates [of any high-income country] in the world. There are things we can do to fix this problem. A lot of problems we can't fix. But if we get all hands on deck, we can make better outcomes for Black women and ultimately for all women.
Are you going to have influencers and other people in the industry, like Serena Williams — people who have had that shared experience — speak out more to amplify the message that you have in the film? 
Lee: I have to say that when Serena Williams talked about her experience, it really opened the eyes of a lot of people. So I am sure she will continue to do that work. It is my hope that as women have experiences, they share them. Because I think it is really important that we share what we go through. Because we let women know that we are not the only ones, and when we do that, we let people know we're not crazy. It wakes up the health care providers as well to pay better attention and to start listening to us.
Paula Eiselt: Thank you so much for seeing the film. I came to the work as an impact-driven filmmaker and a mom. I have children, and I had my own traumatic experience in the system. It wasn't until 2017 that a slew of articles came out. I realized that the U.S. was the worst country in the developed world to give birth in. Black women are dying at three times the rate of white women. I felt called to use my skills as a filmmaker to uplift those stories, to uplift change-makers and the families affected by it. It deeply affects me as a human being and as a mom. I know that what I went through profoundly affects Black women at much higher rates. 
We are the only industrialized nation that does not have midwifery care or present any viable options aside from OB-GYNs and hospitals. Other western countries have birthing centers and midwives, where women have a choice. Tonya and I, it was so important to us that this was an empowering story about offering women a choice.
We believe that women should choose whether they want to be pregnant or not. They also should have the choice of how they want to give birth with dignity. Surviving birth is the absolute lowest bar possible. Everyone should survive birth. We should all feel dignified and empowered with our birth. That is what we hope Aftershock accomplishes.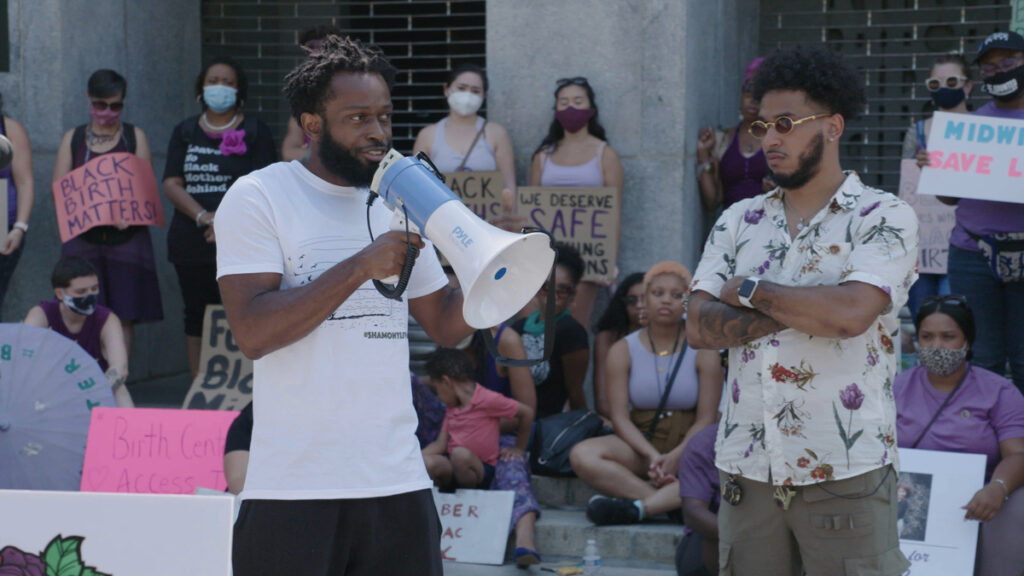 The main statement of the film is that women should have more vaginal births with midwives and other people who are capable of coaching them to give birth rather than C-sections, where it is still considered a major surgery. A lot of things can go wrong. Was that the main takeaway that you want people to learn?
Eiselt: I think there are so many takeaways. I just want to highlight the lived experiences of the families in our film: Shawnee Benton Gibson, Omari Maynard, and Bruce McIntyre, who are surviving family members of Shamony Gibson and Amber Rose Isaac. Those two women are the guiding spirits of this film. Their memories are why we are doing this work. 
I would say that a high rate of C-sections, which, as you said, is major abdominal surgery, is one of the key issues and problems in the system. Yes, it is too much too soon and too little too late. Either women are gaslit — especially Black women — and they are not heard or seen, or there is too much intervention without medical evidence, which is then leading to deaths, because women are having these major abdominal surgeries, which they don't necessarily need, and that causes more complications. 
I think our overall takeaway is choice, human-centered care, and autonomy. If someone does need a C-section, it should be a mutual decision. It should be informed. You can still have an empowering C-section birth that is dignified. For the 85% of women who are low risk, vaginal birth is a much safer option. We should be able to have that option without being pressured into having C-sections.
What approach are you going to take with the promotion of the film? How has the Onyx Collective helped you with taking the film forward so people can see it?
Eiselt: This film has been a collaboration between not only Tonya and I, but Tonya, I, Shawnee Benton Gibson, Omari Maynard, Bruce McIntyre, Renita Isaac, and Jasmine Gibson. They are our collaborators in this film. They are the protagonists of the film. That is how we are telling this story, through their experiences and with us by their side. They're the ones who are doing the work. Bruce is in the process of building a birthing center in the Bronx. He is in Washington, D.C., today at a conference. Shawnee just did a TED Talk last week. She is going to dominate the world with her activism. Omari connects fathers with his art and his paintings. 
There is so much activism that our protagonists are doing that we want to uplift. In addition to working with grassroots communities as well as policy makers, influencers, and really making the public — who aren't aware — aware now. The people who are aware of this crisis are presented with choices. Lastly, we want to hold the medical system accountable for the way Black women are treated in their hospitals. That has to stop, and it needs a complete redesign to make birthing safe and dignified for Black women in this country.
I want to say that Onyx has been an incredible partner. From the moment Tonya and I met the incredible women of Onyx, we knew that we were home. We found the people and our family who we wanted to release this film with, so we're thrilled. 
Paula Eiselt's most recent project, Under G-d (2023 Sundance Film Festival), a short film about the national Jewish response to the overturning of Roe v. Wade, will have its broadcast premiere on PBS POV Shorts on July 25.