PARK CITY, UTAH – JANUARY 22: (L-R) Director Adura Onashile and actor Déborah Lukumuena attend the 2023 Sundance Film Festival "Girl" Premiere at Park Avenue Theater on January 22, 2023 in Park City, Utah. (Photo by Jerod Harris/Getty Images)
By Aliese Muhonen
So who's the girl in Girl? 
The intentionally ambiguous answer changes throughout the course of director Adura Onashile's moving feature debut, which premiered January 23 in the World Cinema Dramatic Competition.
At first glance, the girl is 11-year-old Ama (Le'Shantey Bonsu), who lives sequestered with her mother, 24-year-old Grace (Déborah Lukumuena), in their Glasgow apartment. They have a close, loving relationship that at times is more of a friendship than a mother-daughter bond — emphasized by the fantastical story Grace tells to explain Ama's origins (that she made a wish not to be lonely, and Ama came along), and the fact that Ama calls her mother by her first name. 
Grace has transformed their dilapidated, working-class apartment into an exotically colorful, cozy nest, furnished with vibrant fabrics from the unspecified African country they emigrated from. If Grace had it her way, they would stay inside forever. But someone needs to work. So Grace utilizes unusual systems, both to protect Ama and to survive the outside world that terrifies her. 
Ama repeats a set of rules — "We keep to ourselves, don't trust anyone!" — before Grace locks the door and heads to her night shift as a custodian in a nearby building, audibly counting the 100 steps to get there. But despite her precautions, Grace can't suppress hazy flashbacks from a past ordeal. Nor can she keep the curious Ama inside. Inevitably, life — and a social worker — come knocking, and Ama has to leave the nest for school. As Ama grows and thrives, her burgeoning adolescence and a newfound friendship provoke increasingly stifling behaviors in Grace. 
In this redemptive coming-of-age, Grace — a single mother traumatized in childhood — is as much the titular girl, and as much in need of growth and freedom as her daughter.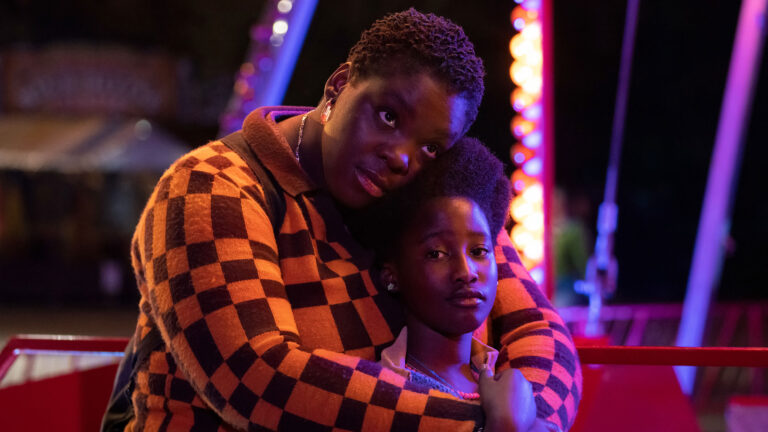 At the Q&A following the film's premiere, Onashile says the story is partly autobiographical. "I grew up in a single-parent family and I was an only child, and sometimes the lines were a bit blurred between being my mom's sister or being her best friend," she says. "But I always thought the dynamic was an interesting one to examine."
The film's artistry in production — combining vibrant, impressionistic cinematography, an ethereal soundtrack, and dark but hopeful themes — arose from Onashile's memories as well. "There was a period in our lives where we lived in an area that was quite an NF — a National Front — enclave, which is like a fascist [political party] in London. And we couldn't go out easily, and mom created this beautiful sanctuary at home. So I was always fascinated by the join between trauma and beauty, because ostensibly we were in a difficult situation, but she created this haven." 
Grace's character is a complicated one. Not only is she grappling with the conflicting forces of suppressed trauma and fierce love for Ama, but her overprotective actions are suggestive of jealousy — that she was robbed of the childhood Ama's trying to enjoy.
It's a tall order for any actor to portray such a complex role and still endear themselves to the audience, but Onashile says Lukumuena nailed it on the first try. 
"She basically came totally formed; I didn't have to do anything!" Onashile says. "I think you always want to collaborate with people who elevate what you've done. And there was something about how Deb approached Grace, with such a delicacy and compassion, that I felt like she really understood what I was trying to get at in the script."