During the 2023 Sundance Film Festival, the Indigenous Program announced Caroline Monnet (Anishinaabe/French) as the recipient of this year's Merata Mita Fellowship in support of their upcoming feature film Thunderbirds. Named in honor of the late Māori filmmaker and longtime Artistic Director of the Institute's Native Lab, this fellowship cultivates a stage for Indigenous women worldwide to tell their stories. Merata (Ngāi Te Rangi/Ngāti Pikiao) championed emerging Indigenous talent, and in continuing her legacy, the Indigenous Program is proud to provide this year's upcoming selected fellow with:
a $10,000 grant 

a year-long continuum of support and mentorship

access to strategic and creative services offered by Sundance Institute artist programs

a trip to the 2024 Sundance Film Festival in Park City, UT

The fellowship is open internationally to fiction and non-fiction projects. To be eligible you must be an Indigenous artist who identifies as a woman and is endeavoring to direct a feature film. Applications for the 2024 Merata Mita Fellowship are now open; submit your materials by October 9. 
Below, hear what Monnet had to say during the 2023 Sundance Film Festival Native Forum Celebration.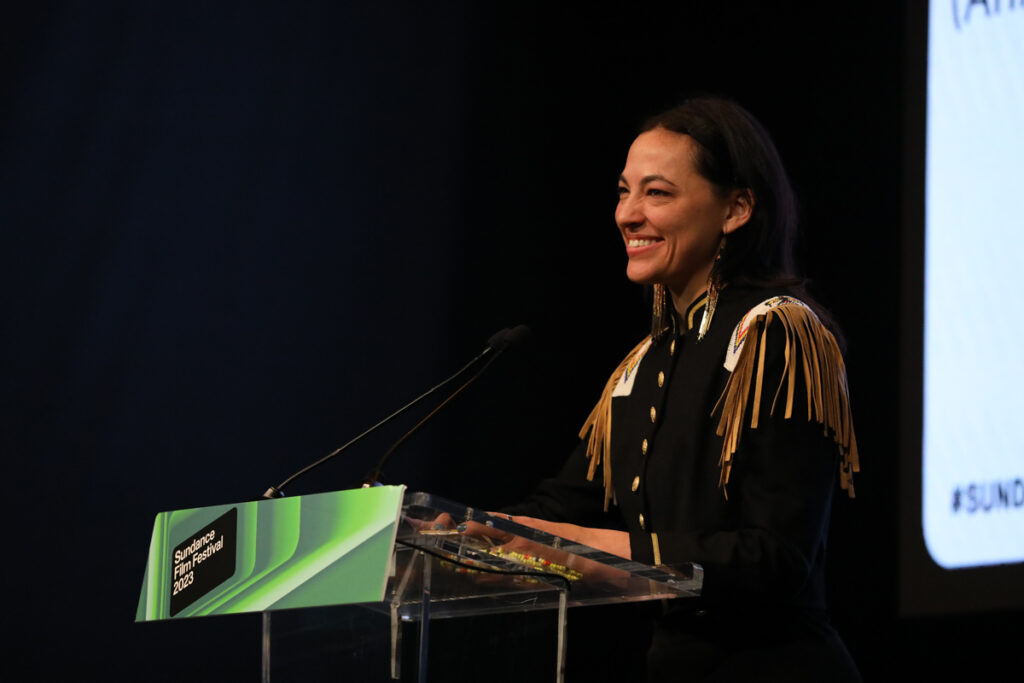 "Kwe kakina. Caroline nindijinkaz, nin Anishinaabekwe. Outaouais nitotci, tanjeh kitchi-minendan nindi nonggom. Kitchi migwetch.
I would like to start by thanking the Shoshone, Paiute, Goshute, and Ute Tribal Nations for having me as a guest on their traditional and ancestral homelands. I am deeply honored and feel privileged to be named this year's Merata Mita fellow and to be following in the legacy of such talented Indigenous women that have accomplished groundbreaking work. 
While I never had the opportunity to meet Merata Mita — her vision, commitment and resilience are legendary. When reflecting on the work she has accomplished, I am reminded of the importance of trusting your instincts, working with your community, and that telling our stories without compromise can go a very long way. It is a true honor to walk in the shoes of such a strong, visionary, independent, and determined woman that has blazed a trail for my generations, and those to follow. Her legacy continues to be a source of inspiration for creativity and innovation. It gives me strength, power, and vision. 
It is through art and film that I found a sense of belonging, a sense of purpose and self-confidence. And through my process of becoming a filmmaker, I also realized how movies can be a powerful tool for education, empowerment, and revolution. This acknowledgment from the Sundance Institute comes at a pivotal time for me as I embark on the journey of writing and directing my second feature film. I have always worked towards bringing positive and authentic indigenous representation on screen, hoping to shed light on the chaos of the past, but also offer a glimpse into the future. A future filled with love, compassion, and intention. 
My next film project is no different, titled Thunderbirds. It's a story based on real events that took place in 1976 during the final months leading up to the permanent closure of an experimental college for indigenous youth in Quebec. Called Manitou College, it only existed three years, but the experience, however brief, deeply transformed the indigenous youth that were fortunate enough to attend. It is said that the government decision to close the college was motivated by fear in the face of the rising Indigenous intelligentsia. Basically, they were scared of a bunch of native youth making art and film. And they were right. Because when we control the narrative, we can achieve great things. 
Thunderbirds is a project that seems incredibly fitting for this Fellowship, considering the impact Merata Mita had not only in film, but also for her community and for the rise of Indigenous voices at large. While I will be focusing on themes of love, friendship, freedom, humor, and sense of belonging in my film, I will keep in mind the struggles and achievements Merata Mita carried through her remarkable career with energy, vibrancy, and ideas of hope for the future. It means a great deal to me to be part of this Sundance native community and to be surrounded by like minded individuals. I am humbled that the work that I'm so passionate about can resonate with others. This recognition will allow me to continue my journey as a filmmaker and enables me to strengthen and further define my cinematic voice. It inspires me to continue to challenge myself and to strive to make impactful work that can be healing, inspiring and transformative. 
I realized I could not have made it here today without the invaluable and continuous support of my community and my peers. I am deeply grateful to the Sundance Indigenous Program, to Adam [Piron] and his team for its support, and for paving the way for Indigenous artists like me to tell their stories. Receiving this fellowship today fills me with the confidence and the inspiration to continue Merata Mita's legacy. I am proud to be Anishinaabe Kwe and I am proud to contribute to Indigenous cinema. I am surrounded by such incredible Indigenous talents from all over the world. You are truly inspiring. Your voices bring about change, allowing us to dream. These are really exciting times to be making films and to tell their stories. Kitchi migwetch."