Sundance Interdisciplinary Program
Sundance
Interdisciplinary
Program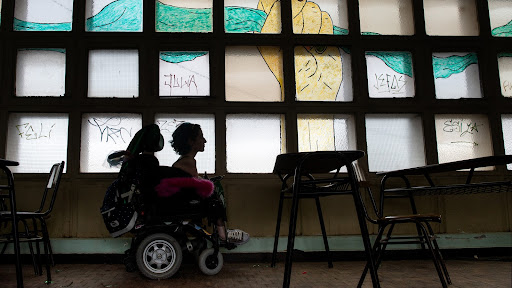 Photo credit: Courtesy of 4 Feet High – ​​Maria Belen Poncio and Rosario Perazolo Masjoan
The Sundance Institute's mission and values have nurtured a powerful community of artists throughout its 40-year history, and developed a flexible and innovative approach to artist support. This allowed the Institute to evolve nimble solutions in tenuous times, as the current global pandemic disrupts artists whose work is based on location, synchronicity, and new technology.
In response to challenging times, in 2020 the Institute united its Film Music, New Frontier Labs, and Theater programs to create the Interdisciplinary Program, which brings a holistic approach and an equitable focus to supporting theater, composing, emerging media, and innovative cross-disciplinary artists. Cultivating the cross-pollination of creators at various stages in their respective practices, the Interdisciplinary Program fosters a dynamic, year-round interdisciplinary community, bridging silos by scaffolding experimentation and collaboration.
The proposal checklist outlines the application requirements for the Sundance Institute Documentary Fund's Winter 2021 grant cycle. The application is now open and the deadline is July 26th 2021
Art of Practice Fellowship
The Art of Practice Fellowship focuses on the theater, composing, emerging media, and innovative cross-disciplinary communities newly convened at Sundance, offering opportunity, exploration, and inclusive recovery post-global tragedy. Rooted in the qualitative research with artists and field leaders that helped shape the Program's design, including the commissioned Emerging from the Cave field study, the Art of Practice Fellowship uses long-standing Institute program infrastructures as a foundation. Testing, prototyping, and co-creating, the fellowship keeps a generous community of unique voices at its heart. 
With an "exploded lab" ecosystem, the fellowship extends the collaboration and generative environment of a Sundance lab across a full year, involving a larger, more varied group of artists. This cultural incubator community comes at a pivotal time in the pandemic landscape for artists in these fields, especially artists whose voices have been marginalized or excluded. 
In this independent study commissioned by the Sundance Institute, Jesse Cameron Alick interviews over 70 theater artists and theater arts workers, writing about their individual experiences during the pandemic and the racial reckoning after the murder of George Floyd, analyzing the state of the field now, and offering potential pathways that can take us into the future.
Online Collaboration/Timebanking
A new responsive web application to be built in 2022, this community-building tool, with the timebanking movement and solidarity economy in mind, unlocks the extended value that artist networks are rich with: one another. Designed in response to the needs of Sundance artists and developed with their feedback, this online application will allow artists to find each other, share their work, connect, and exchange their time. 
The Sundance Institute Interdisciplinary Program is supported by an endowment from the Doris Duke Charitable Foundation, with generous additional support from the John D. and Catherine T. MacArthur Foundation, Unity's Charitable Fund, a fund of the Tides Foundation, Film Music Foundation, The Max and Victoria Dreyfus Foundation, The Carrie Louise Hamilton Foundation, and Francena T. Harrison Foundation.