Whether your first time attending Sundance Film Festival was in-person or online, chances are the film premieres, special programming and events helped define the Sundance Film Festival experience. Below, our Outreach and Inclusion Program invites you to explore talks and events in the Beyond Film Program, Festival Village and New Frontier Spaceship that further conversations around equity and representation in the industry as well as centers and uplifts allied organizations, regional collaborators, artists collectives, and more.
Most Beyond Film events will provide ASL and all events will have closed captioning. To request additional accommodations for Beyond Film, please contact accessibility@sundance.org or for Festival Village events, contact the host organization. Beyond Film and Festival Village are free with a Festival account. All events below are listed in Mountain Time (MT).
Don't miss these exclusive events that will leave you both entertained and inspired to promote change across our field!
---
Thursday, January 20 – Sunday, January 23
The Latinx House
We're back! The Latinx House is once again creating space to celebrate Latinx culture and excellence in entertainment and beyond at 2022 Sundance Film Festival. This year's festivities are 100% virtual, which means more opportunities to share movie premieres, critical discussions, and interviews with you,
---
Friday, January 21 – Sunday, January 23
The Blackhouse Foundation
For the fifteenth consecutive year, The Blackhouse Foundation is bringing the culture to independent film and content as it joins the virtual lineup of the 2022 Sundance Film Festival on Sundance Digital Main St. The organization will curate three days of programming for the festival.
SHIFTING POWER FROM WITHIN: THE NEW GATE OPENERS
Friday, January 21, 11–12 p.m. MT
Color Congress
Join our moderator Rahdi Taylor (Concordia Studio), along with program officers Chi-hui Yang, and Jon-Sesrie Goff (The Ford Foundation), Lauren Pabst (MacArthur Foundation) and Denae Peters (Perspective Fund), for a frank conversation about how their pasts points to the future of the documentary ecosystem.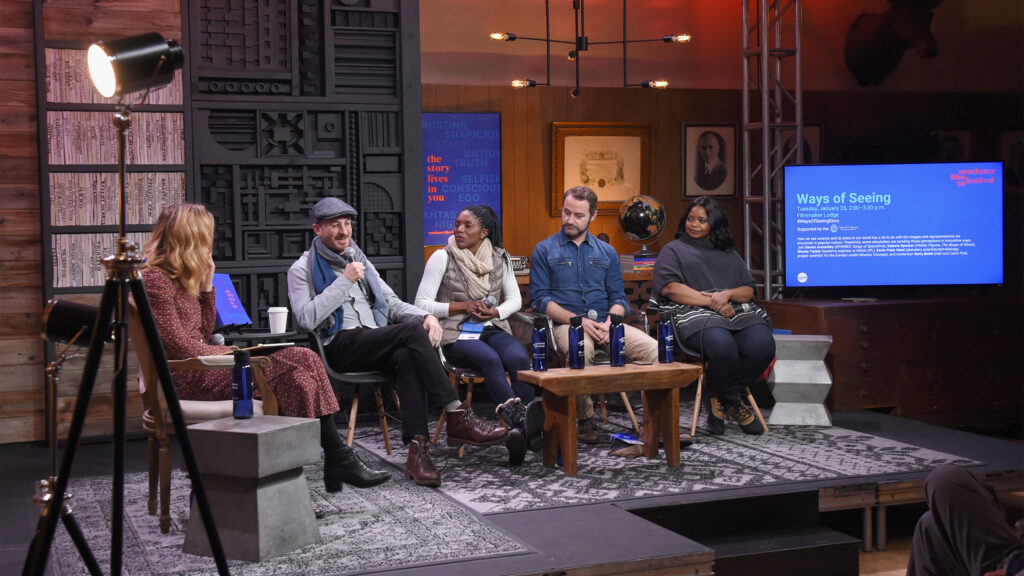 CALLING ALL ARTISTS: THE CLIMATE CRISIS IS RECRUITING
Presented by Women at Sundance
Friday, January 21, 2–3:30 p.m. MT
Artists are urgently needed to interpret the present crisis and imagine a climate-just future. Hear from our recruiters: youth and Indigenous movement leaders, policymakers, and scientists, and join the discussion about how we can work together collectively like never before.
Recruiters: Andrea​ ​Ixchíu, Geeta Persad, Vanessa Nakate (youth climate activist, Uganda), Farhana Yamin (climate legal advisor, UK)
Moderated by Megha Agrawal Sood (Head of Climate Story Unit, Doc Society), Emily Wanja (Global Community Manager, Climate Story Unit, Doc Society)
POWERFUL BLACK WOMEN SHAPING THE FILM INDUSTRY
Friday, January 21, 2:30–3:30 p.m. MT
Shadow And Act
Shadow And Act is here to give flowers to the powerful Black women shaping the film industry. Their contributions and leadership across project development, performance artistry, and even viral marketing strategies have been an indispensable part of bringing Black stories to life. We're inviting Actress Bresha Webb, Director of Programming Mercedes Cooper, Development Executive Ada Chiaghana, and PR Maven Chardae Jenkins to discuss their process to success and the BTS efforts leading to the creation of our community's favorite films.
---
WHO TELLS OUR STORIES? LGBTQ STORYTELLERS RECLAIM THE FRAME
Saturday, January 22, 11:30 a.m.–1 p.m. MT
GLAAD
Too often the stories of people from underrepresented communities have been told by creators from outside of that community. But as more LGBTQ storytellers are empowered to create narratives on their own terms and tell complex, nuanced stories from an unapologetically queer point of view, their fresh perspectives are changing the cultural conversation both on-screen… and beyond. Join GLAAD and LGBTQ creators for a discussion on their process, observations on the industry, and how audiences are demanding authentic storytelling.
Saturday, January 22, 4–6 p.m. MT
The past two years have incubated new and evolving movements in the media arts system, creating pathways to a radically aspirational future. In this participatory worldbuilding experience, enter a portal to that future with artists, activists, and industry members. Together they will share prototypes, provocations, and artifacts from an imagined future media-arts ecosystem centered in justice, abundance, and joy.
Featuring: Sabrina Schmidt Gordon (Producer, To The End), Andria Wilson Mirza (Director, ReFrame), Yasmin Dunn (Director of Education & Outreach, Hollywood Commission)
Facilitated by: Karim Ahmad (Director, Outreach & Inclusion, Sundance Institute), Brenda Coughlin (Director, Engagement & Advocacy, Sundance Institute), Tony Patrick (Sundance New Frontier alum)
UNCONSCIOUS BIAS: BIPOC DEAF CREATORS REFRAMING THE NARRATIVE AT THE SCRIPT DEVELOPMENT TABLE & BEHIND THE CAMERA.
Saturday, January 22, 4:30–6 p.m. MT
Deaf Talent® Media & Entertainment Consulting (DTMEC)
For years, Hollywood has tended toward the unconscious bias of stereotyping BIPOC Deaf creators by assuming we do not exist — which has negatively influenced how writers tell stories about us. Our goal is to address why there are no BIPOC Deaf creators and writers developing stories in the writers' room. What will it take for Hollywood to hire BIPOC Deaf creators? What concrete actions can Hollywood take to bring culturally authentic BIPOC Deaf representation to the screen and behind the camera in 2022 and beyond?
COLOR OF CHANGE PRESENTS: WHAT'S COSTING HOLLYWOOD?
Saturday, January 22, 2–3:30 p.m. MT
Color of Change
The unwritten rule of operation in production industries is operating without transparency, allowing for inaccurate, unequal, and disempowered representation and workforces. Our documentary-short addresses this issue and puts it at the forefront. Hollywood can no longer operate in the way that it has been. Join today's screening and conversation to learn about the importance of transparent data reporting, and why this broader workplace equity step is what's needed to move the industry forward.
Saturday, January 22 – Wednesday, January 26
Outfest presented by Acura
This multi-day experience begins January 22 and features LGBTQIA+ talent from Sundance and beyond, including panels streaming on the OutMuseum and the return of the Outfest Queer Brunch at Sundance virtually for its 26th year.
---
*BGDM HOUSE PARTY ON THE NEW FRONTIER SPACESHIP
Sunday, January 23, 4 p.m. MT
Brown Girls Doc Mafia
Come party with us at the New Frontier Spaceship. Assume an avatar body and mingle with BGDM Members and allies at the BGDM House Party, a virtual venue inside 'The Spaceship.' To RSVP for this and other BGDM Events at Sundance, please register here.
*THE TIME IS NOW | BIPOC STORYTELLERS FROM CHICAGO AND BEYOND
Sunday, January 23, 6 p.m. MT
Open Television (OTV)
A virtual film screening and interactive panel that will showcase content and amplify the leadership from the BIPOC Media Fund Members: Chicago-based media nonprofits Open Television (OTV), Sisters in Cinema, Full Spectrum Features and Mezcla Media Collective. BIPOC Storytellers from Chicago & Beyond is organized by Open Television and generously sponsored by the John D. and Catherine T. MacArthur Foundation.
*This public event is being hosted on the New Frontier Spaceship. To access, attendees must be an Explorer Pass or other Package holder (more).
DAILY ARTIST MEETUP: CINEMA FROM KAHIKI TO KAIMUKĪ
Sunday, January 23, 11:30 a.m.–1:00 p.m. MT
Join Kanaka Maoli filmmaker and Sundance Alumni Alika Tengan in a discussion about his Sundance Film Festival feature film Every Day in Kaimukī. Tengan will be joined by established filmmakers Dana Ledoux Miller and Vea Mafile'o to discuss their artistic journeys in a conversation moderated by Cheryl Hirasa from Pacific Islanders in Communications. This Artist Talk will be followed by breakout groups with the panelists.
#ACTUALLYAUTHENTIC: HOW PRIME VIDEO'S AS WE SEE IT DELIVERED ON NEURODIVERSE INCLUSION IN FRONT OF AND BEHIND THE CAMERA
Sunday, January 23, 4:30–6 p.m. MT
Easterseals
Join executive producer Jason Katims and the cast of Prime Video's new series As We See It for a candid conversation about authentic neurodiverse representation. The series is a rare, entertaining, and heartfelt look at 20-something roommates on the autism spectrum navigating life and its hurdles.
Sunday, January 23, 2–2:30 p.m. MT
At this special event celebrating Sundance Institute's 40th anniversary, we take a joyous look into the rebel histories of award-winning, renowned filmmakers who premiered their shorts and debut films at the Festival. We'll explore what their stories mean for the future of Sundance, consequent trailblazers, and independent cinema.
Featuring Christine Choy (The Exiles), Cheryl Dunye (Greetings from Africa), Sterlin Harjo (Reservation Dogs)
Moderated by Eugene Hernandez (Deputy Executive Director of Film at Lincoln Center)
POWER OF STORY: ARTISTS UNBOUND
Sunday, January 23, 3:00–4:30 p.m. MT
Presented by Netflix
Exciting boundaryless artists from a wide cross section of creative practices join us to make sense of the boxes artists can be confined to, how the culture shapes these boxes, and the freedom found in exploding them. The fearlessness of these transgressive visionaries is a testament to creative integrity and its unbreakable link to independence.
Featuring: Jeremy O. Harris (Zola), Roberta Colindrez (Vida), and Zackary Drucker (Framing Agnes)
Moderated by Alex Jung (Vulture)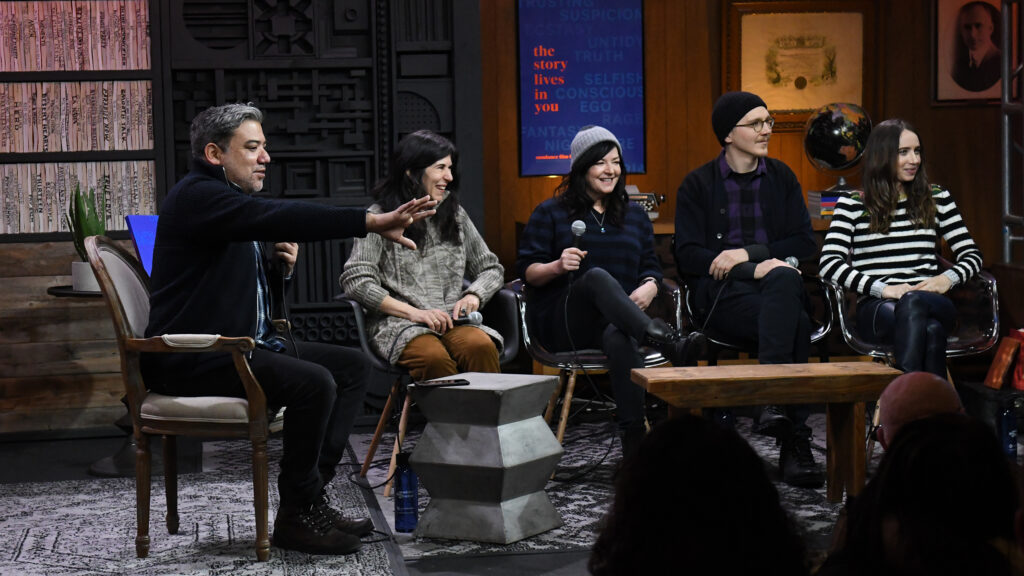 ---
Monday, January 24, 11 a.m. MT
Presented by the Sundance Institute Indigenous Program
Our Native Forum Celebration honors and celebrates Sundance Institute Indigenous Program fellows, grantees, and alumni, announces our 2021 Merata Mita Fellow, as well as highlights the Indigenous filmmakers with work showcasing at Sundance Film Festival.
THE STORY OF US: RECLAIMING THE NARRATIVE
Monday, January 24, 2–3:30 p.m. MT
Legal Scholar and civil rights advocate Kimberlé W. Crenshaw returns to the Sundance Film Festival to moderate a conversation interrogating how censorship, legislation, and storytelling are creating a distorted national narrative, and the crucial role of new cinematic genres in challenging these myths.
Featuring: CJ Hunt (The Daily Show with Trevor Noah), David Blight (Sterling professor of American History, Yale University), Nikyatu Jusu (Nanny) and Pulitzer Prize-winning writer Việt Thanh Nguyễn
Moderated by Kimberlé W. Crenshaw (Executive Director, African American Policy Forum)
Monday, January 24, 11:45 a.m.–1:45 p.m. MT
Director Lisa Collins and Co-Director Mark Schwartzburt have created an epic that brilliantly transports black film pioneer Oscar Micheaux into our politically polarized present. Seventeen years in the making, Oscar's Comeback, features profoundly resonant themes and an incredible kaleidoscope of characters, including Micheaux as 'the godfather of independent cinema. This special showcase will include a lively conversation with the creators and a sneak peek at scenes from the 5 hour film.
Featuring: Lisa Collins, Mark Schwartzburt, (Oscar's Comeback)
In conversation with: Jacqueline Stewart, (Chief Artistic and Programming Officer, Academy Museum of Motion Pictures)
"OUR ROAD TO THE SUNDANCE FILM FESTIVAL" CONVERSATION WITH THIS YEARS LATINÉ FILMMAKERS
Monday, January 24, 6–7 p.m. MT
Latino Filmmakers Network
Our Road to the Sundance Film Festival features a conversation with some of the Filmmakers whose movies made it into the 2022 Sundance Film Festival, their journey in getting their movies made that led them to this moment in time. Get inspired to never give up on telling your stories. Our featured filmmakers this year: K.D. Dávila (writer, Emergency), Constanza and Doménica Castro (Directors, We Are Here), Aubrey Plaza (producer/actor, Emily the Criminal), Gabriela Ortega (writer/director, Huella), and April Maxey (writer/director, Work). Register here: www.latinofilmmaker.org
---
ASIA SOCIETY AT 2022 SUNDANCE FILM FESTIVAL
Tuesday, January 25, 4:30 p.m. MT
For the fourth consecutive year, Asia Society will host conversations honoring Asian filmmakers and talent at the 2022 Sundance Film Festival. Academy Governor and Chair of its Membership Committee and Asia Society Advisory Board Member Janet Yang (The Joy Luck Club, The People vs. Larry Flynt, Over the Moon) will moderate these discussions.
---
Wednesday, January 26, 2022 12–1:20 p.m. MT
Color Congress, Firelight Media & Center for Cultural Power
Color Congress is a new organization devoted to supporting, resourcing and connecting BIPOC-led documentary organizations. Join Color Congress co-directors Sahar Driver and Sonya Childress and a board of industry veterans in a celebration of the legacy of BIPOC leadership in documentary film.
---
Thursday, January 27 and Sunday, January 30 at 12 p.m. MT
Muslim Public Affairs Council Hollywood Bureau (MPAC)
MPAC's Hollywood Bureau changes the narrative of Islam and Muslims in the entertainment industry so that audiences see Muslims as vital contributors to creating social and cultural change in America and around the world. Please join us for two engaging virtual conversations during the Festival this year: Intersectional Solidarity In Animation: Telling BIPOC Stories Together on January 27th, and Muslim Cinematic Movements: Transforming Obstacles into Opportunities on January 30th.
---
AGENCY + DISABILITY IN DOCUMENTARY FILM
Friday, January 28, 11 a.m.–1 p.m. MT
FWD-Doc
Join a moderated discussion with members of the I Didn't See You There ("IDSYT") film team about agency and disability in documentary film. After the discussion, attendees will break out into three 20-min networking sessions to discuss their current projects, what help they need, what help they can offer, and what recent film has inspired them. Captioning and ASL interpretation will be provided. Requests for accommodations can be sent to hello@fwd-doc.org.
BEYOND RESILIENCE: FILM SUBJECTS AS COLLABORATORS
Friday, January 28, 2–3:30 p.m. MT
Firelight Media
Join Firelight Media for a special edition of the Beyond Resilience series at Sundance Film Festival for a discussion with independent documentary filmmakers of color who engage film protagonists as collaborators. Panelists include Firelight-supported filmmakers Isabel Castro (Mija, Sundance 2022 Premiere), Shalini Kantayya (TikTok, Boom., Sundance 2022 Premiere), and Emily Cohen Ibañez (Fruits of Labor, SXSW 2021 Premiere), moderated by Firelight Media President Marcia Smith.