By Vanessa Zimmer
Hello, world. This is New Frontier, and we're ready for our close-up.
That's how Shari Frilot might describe this moment. As New Frontier's chief curator, she takes great pride in this section of the Sundance Film Festival, with its focus on storytelling at the crossroads of film, art, and emerging technologies. New Frontier has always been an exhibition space and place for artists who resist traditional modes of telling stories in favor of bold experimentation in art, film, and performance.
But in 2021 that idea blossomed even bigger and brighter once COVID-19 prompted the Festival to go all online. "When we went into lockdown last year and realized that we weren't going to have anything on the ground, the XR (extended reality) community immediately went into action to develop virtual platforms that could exhibit incredibly ambitious XR work," Frilot says excitedly during a recent presentation on the 2022 New Frontier section. "It was an amazing thing to see all these different and original social platforms that came out of it!"
She pauses and adds, "It's important to note this history because it kind of proves the value of experimentation."
To wit: The Spaceship, a virtual venue that essentially allows film lovers attending the Festival, both online and in person, to gather — through avatars — and mingle. They can socialize and discuss the films, as well as attend presentations, film parties after screenings, and other events. In that regard, New Frontier stands among those at the forefront in the metaverse.
In practice at the 2022 Festival, that means accessing The Spaceship remotely via computer or virtual-reality headset, or in person through equipment at The Craft. The Craft is a new space this year, imagined as an immersive environment free and open to all Festivalgoers, with events like artist spotlights. Audiences are also invited to attend groundbreaking performances that take place in the Spaceship Cinema House and in the Egyptian Theatre in Park City… in real time.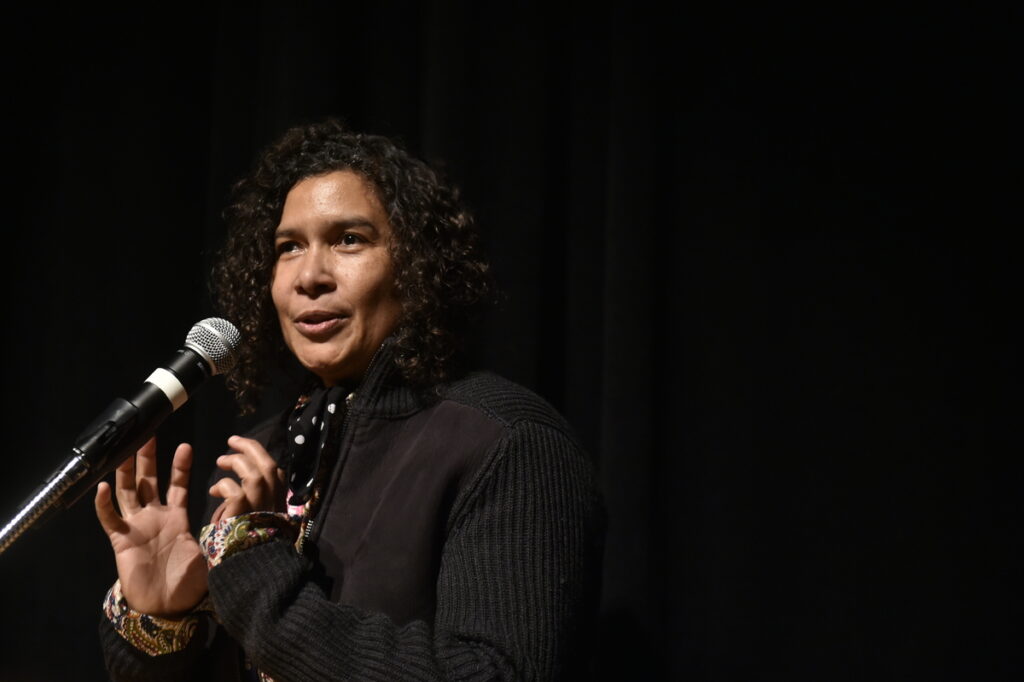 Shari Frilot speaks to the audience during the 2019 Sundance Film Festival.
Another longtime mission of New Frontier is to bring the Festival community together, to sort of put on pause the "normal" world for a time and enter an imaginary space that allows people to start new conversations and pose new questions.
"The reason why we built New Frontier on the ground as a lounge, not as like a black box or a white box, but as a social setting, (is) because we have always wanted to bring filmmakers and industry festival guests into this experimental exhibition in a way that made them feel relaxed and comfortable with new ideas to percolate discussion that can grow our Festival landscape and grow the conversation at Sundance," Frilot says.
"That's why we made it a bar lounge, it's why we painted the walls purple our very first year, no one knew what was happening. And that was by intention, that's by design, and The Spaceship continues that — that practice of finding a meaningful venue that can shake us out of our daily lives and give us some perspective, some headspace to think differently, to be different."
All of which reinforces Frilot's philosophy on the value of experimentation: "You know, if we're trying to go back to what the old world was, we're not doing the right thing. We've got to try to reach for something new, and even if we don't grasp it, we're reaching forward. Our artists are always reaching for the new, and it's important for Sundance to support their reaching and to see what we can all come out of it with…"
In that spirit, the Sundance Film Festival will open on January 20 with an experiment in biodigital convergence as audiences gather online and in person for a New Frontier presentation of Sam Green's 32 Sounds, an immersive documentary taking place simultaneously in Park City's Egyptian Theatre and in The Spaceship's Cinema House.
The Explorer Pass, which comes with all package purchases or can be purchased separately for $50, allows global access and participation in New Frontier activities running January 20–28.
The Spaceship digital venue will host the complete official New Frontier lineup in the Gallery; Artist Spotlights, panel discussions, and special events at Cinema House; and film premiere celebrations in Film Party.
Park City's Egyptian Theatre will present dynamic New Frontier performances (simultaneously happening on The Spaceship) to a live and online audience, along with a post-performance Q&A. Tickets are required and will be available on December 17 (packages) and January 6 (single film tickets).