Deep in the heart of Amherst, a small yet robust town in Massachusetts, rests independent nonprofit organization Amherst Cinema. The vibrant, four-screen theatre will be one of seven Satellite Screens for the 2022 Sundance Film Festival.
Amherst Cinema will showcase a specially curated film selection that includes nine features and a shorts program during the Festival's closing weekend (January 28–30). Amongst those features will be an additional screening and exclusive Zoom Q&A.
The 15-year-old cinema has spent years securing its roots and acting as a cultural beacon to the Western Massachusetts community. As the only Satellite Screen in the Northeast, Amherst is eager to provide a taste of Sundance Film Festival to their audiences.
"We live in a place where there's so much history, so 15 years feels quite young," says Executive Director, Yasmin Chin Eisenhauer. "But our early years consisted mainly of foundation building."
Since then, Eisenhauer, George Myers (General Manager) along with Alex Hornbeck (Creative Manager) and the rest of the leadership team, have been active in making sure the organization reaches a diverse audience. The cinema has featured nearly 300 films a year and hosts a handful of special events — including collaborations with local universities, independent filmmakers, and organizations like food banks and the Organic Farming Association.
"Those [films] always reach out to unique audiences," says Myers, who's been General Manager for 10 years. "We're putting these programs on the screen because they're important."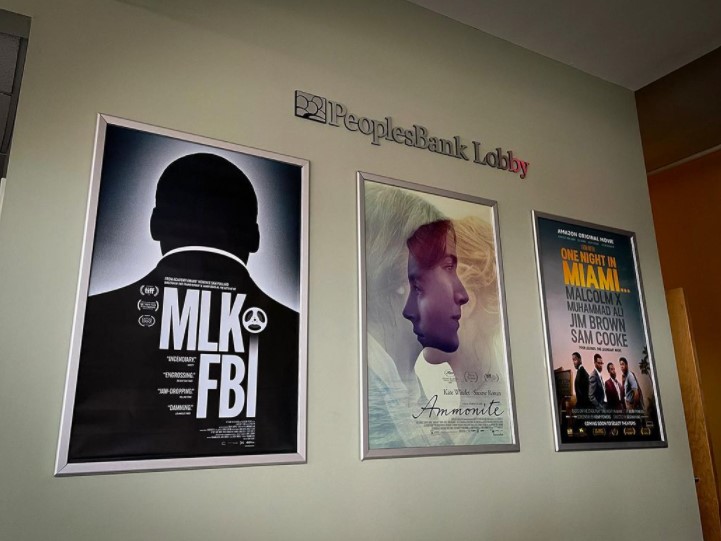 Uniquely situated in a five-college town, the diversity of its members and audiences is a focal point for the cinema. Events like Big Screen Classics bring out families and students alike, and the cinema has a robust late night program every Friday night that brings out a strong student population.
"Our audiences are as diverse as our film selections are," Myers continues. "Generally when a community is represented, especially when they're often disregarded by mainstream media, there's a real excitement about those opportunities. Depending on the type of film, you get a good bit of enthusiasm."
And because the cinema's membership base comes from a 25-mile radius, the organization has been able to identify its reach and better serve historically underrepresented audience members. For example, Amherst draws a lot of support from local Latinx audiences and strives to introduce films that center Latinx voices and stories. In 2020, the cinema's Exhibition on Screen program took audiences on a journey through the life and art of a Frida Kahlo that was very well-received, and it often presents films in collaboration with Amherst College's Latin American Studies department.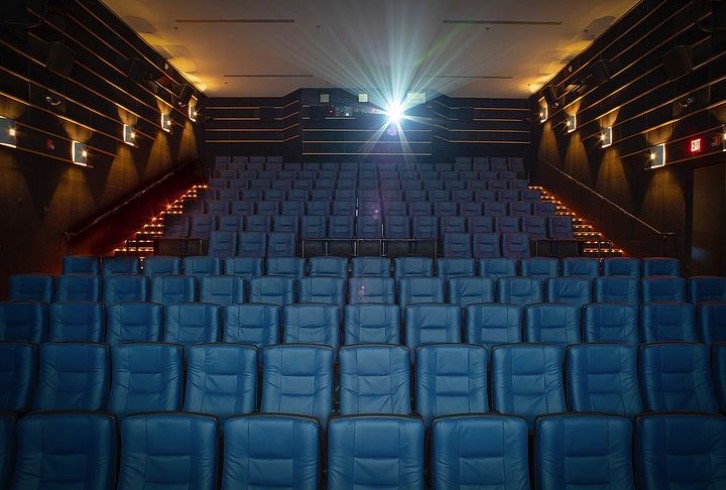 But according to Eisenhauer, they've just barely scratched the surface.
"I want to pause to say that this is also a moment where we're looking at who's here and who's not here," Eisenhauer says over Zoom.
She explains how the 2022 Sundance Film Festival's lineup truly dovetails what Amherst Cinema represents and what they stand for. It's not uncommon for the cinema to feature various Sundance Institute films throughout the year.
"We often run both the big marquee films and the smaller films that might not have had the same fanfare. This year's [Satellite Screen] selection is challenging and it also compliments who we are seeking to be — a program that increases our reach and our span."

Both Myers and Eisenhower pinpointed the alignment with Amhert's mission and the work that Sundance Institute does with indigenous filmmakers, labs and special programming. That prompted Amherst to attend the Festival every year for nearly a decade, along with the annual Art House Convergence conference. When the Satellite program was announced again this year, the cinema was invited to apply.
"We know that Sundance is the premier film festival, we know the works that come out of that, as well the opportunities for people to not just experience film, but engage in the craft of filmmaking," says Eisenhauer. "To be able to have and be part of an event that brings that kind of energy to the western Massachusetts area, and to act as a cultural beacon is very exciting," she adds.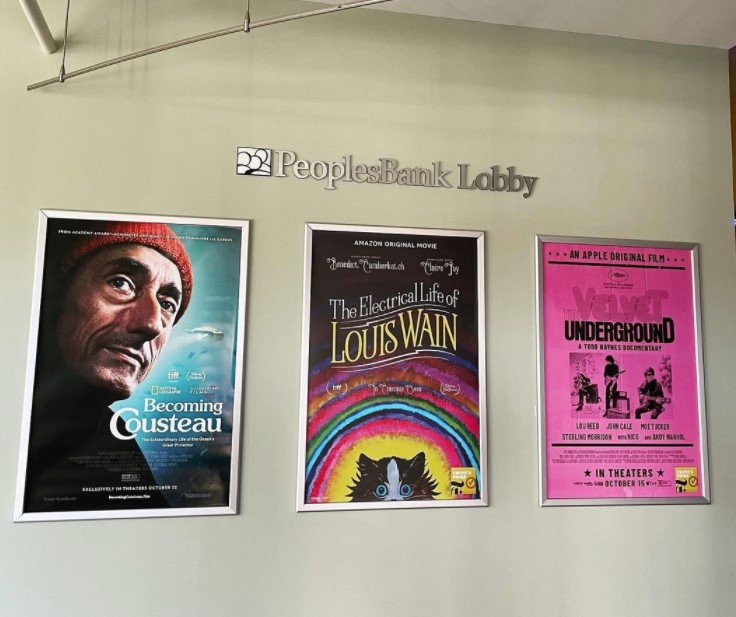 Looking ahead to 2022, the Amherst leadership team is committed to making the organization a true "Cinematic Home," while prioritizing the safety of their community. This means building a brand their audiences could trust and count on.
"We want to build upon all this wonderful programming, our audiences, and what we're known for," explains Eisenhower. "There is so much unpredictability, but part of the goal — and even the lesson — is understanding how to be agile and flexible."
She continues, "The pandemic was a moment to pause and think about who we are. How are we serving the community and how might we move forward into a future that when you think about the demographics, we're seen as a place people can call home? We've managed to build this beautiful brand where our audience trusts us and they trust our programming selection."
Staying open and remaining a resource is another priority for the cinema and the team stressed the importance of offering a virtual option. The cinema presented around 75 virtual events during the closure.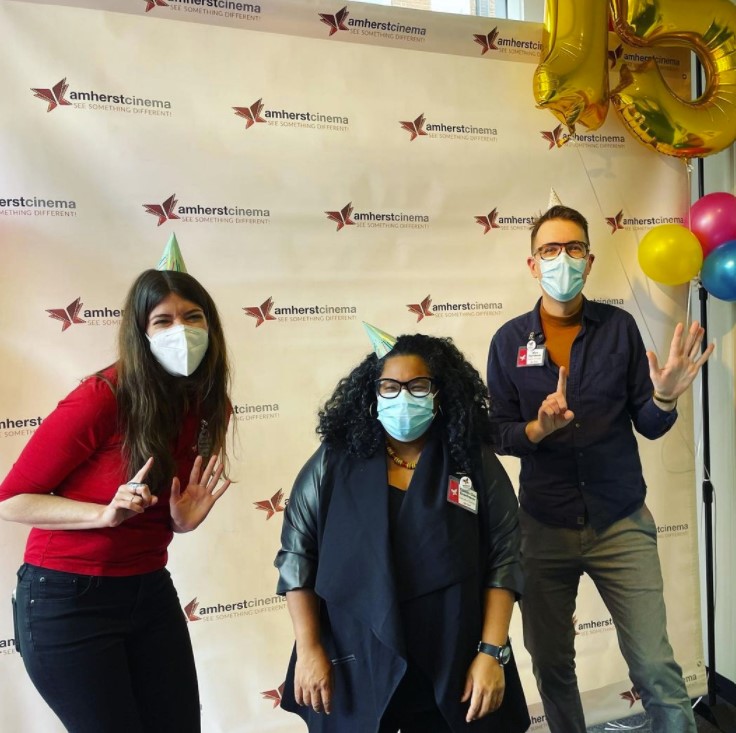 "We knew what we did and we did it well. But now we have to look a little more broadly and widley to see what else is out there," says Eisenhauer. "We have this building, this screen, and this moment."
Despite having to navigate through the pandemic, being a first-time Satellite Screen and one of the only in-person features of the festival, it's the community support and engagement with other theatres that has added a positive twist for the Amherst team.
As for Myers, this will be his 15th Sundance Film Festival, and being in conversation with other theatres as well as collaborating with Sundance has been a true bright spot for him in the midst of all the chaos.
"We have a community that supports us and that reciprocity is a really significant part of who we are both philosophically and foundationally," says Myers.
"I like to think there are two things that get us through the most difficult things — the first thing is art, and the second?" You guessed it, "community."